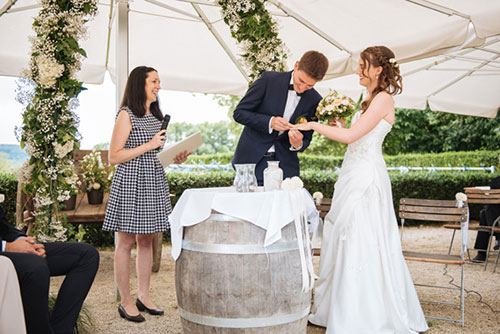 © Samonot Photography
When it comes to celebrating secular weddings, Marylin Rebelo, founder of A Lovely Day, knows just how important it can be for couples to create the perfect ceremony.
When she married her own husband in 2013, she dreamed of having a personalized ceremony outdoors, reflecting their own lifestyle and representing their own vision of their commitment as a couple. While they had a fairly clear idea of what they wanted, it was nevertheless very difficult to find help preparing for a non-religious celebration, as secular weddings were still relatively unknown at that time.
However, not to be deterred, she set about organizing her own wedding ceremony and what a revelation it was! Not only did she succeed in creating her own authentic and original wedding, but she felt compelled to help others organize their own bespoke wedding ceremonies as well.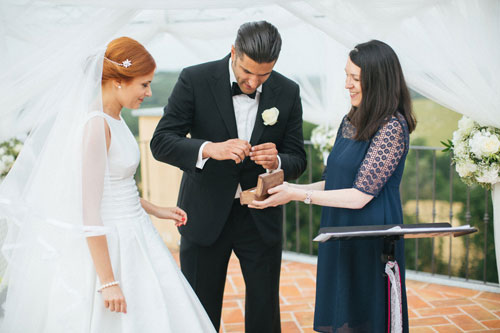 © StudioMagenta

So, having completed her training as a Web Project Manager in 2014, she created a website for her new business called "A Lovely Day", and started helping couples create their own wedding, vow renewal or elopement ceremonies, in ways which were instantly more meaningful than a civil wedding.
Marylin told knowitall.ch "I propose tailor-made wedding ceremonies for my clients, which are fully personalized. If a couple would like a parent to administer the ceremony, I can also offer a coaching service too.
"The ceremonies that I celebrate are secular, i.e. not religious. But if a couple wants to include a prayer or a religious touch, I am happy to do this. My approach is not anti-religious, it's simply an alternative for people who don't want or can't unite religiously."

© Tony Kunz

So successful has Marylin's celebrant business become, that in her first year she celebrated 25 weddings. This year, she has had so many requests from couples to help them create their own personalised wedding celebrations that she has taken on a second celebrant, Géraldine to help her officiate at the services they create for their clients. This year alone they have 42 wedding bookings!
So why have so many couples chosen to celebrate their wedding ceremonies with "A Lovely Day"? Marylin told us what she believes is the reason behind their success,
"By their very nature, secular ceremonies are absolutely unique, which means they have to be created from scratch and their planning can quickly become very complex. Knowing what to say, where to hold the ceremony, who will officiate, how to let loved ones intervene and when to do what, are all questions that need to be answered and prepared for in advance. All this planning takes time. The celebration on the D day is the fulfillment of many preps!"

© Looka Photo
She continued, "As professional celebrants, we accompany couples all the way, from the creation of their ceremony to its celebration, and make their personalised and secular wedding absolutely unforgettable. We work with them to create a tailor-made wedding ceremony that they and their loved ones will undoubtedly love and never forget. On top of this, we are extremely organized, and we like to incorporate just the right amount of humor and emotion into our celebrations. The method we adopt for our ceremony preparation is always lots of fun and people enjoy taking part in the process."
In 2016, Marylin gave birth to a daughter, who has been a great source of inspiration to her and who has now given her the idea to start offering naming ceremonies for her clients as well. Also referred to as "child dedication" ceremonies or birth ceremonies, these symbolic ceremonies are typically organized when a child is born or when he/she is a little older to celebrate the first years of his/her life and give meaning to future years. A secular naming ceremony is also the opportunity to welcome an adopted child within the family.

© Hlo. Photography
To give you an idea of the kind of attention to detail you can expect when working with "A Lovely Day", this is what one couple recently told us about their wedding celebration,
"We would like to thank Marylin for her attentiveness and availability during our ceremony preps. She made it extraordinary. Everything was there and personalised: symbolism; laughs; emotion; and fraternity with our friends. What we particularly enjoyed is her approach as a coach which helped us to create a bespoke ceremony. Thanks to her questions, we could think about everything. With her structure, all the important elements for us were included. Her suggestions regarding rituals and symbols acted like magic. We recommend all couples who want a unique wedding celebration to work with her!"
So, if you are getting married or would like to renew your vows in a truly original way, give some thought to how Marylin could help you. There are no limitations regarding the location of your wedding: Marylin and Géraldine are happy to travel anywhere in Switzerland and abroad. This year, Marylin will be lucky enough to travel to Crete, Netherlands, Portugal and Italy to celebrate her clients' weddings!
A Lovely Day
Marylin Rebelo
This email address is being protected from spambots. You need JavaScript enabled to view it.
https://alovelyday.ch/en
Save
Save
Save
Save
Save
Save
Save