Horizontal poster 70 x 50 cm: fits in inexpensive frames from local stores easily.
Our very own publisher, Lisa Cirieco-Ohlman, has a new project to announce! The Lake Geneva Poster took one year to produce and another couple of years before it came together. Depicting 2 views of the lake and mountains, with photographs taken throughout the year from the same location, it seems natural for her to have come up with this project as her background is graphic design.
Lisa has been living in Switzerland since 1972 when her father joined the World Health Organization. Her family lived in Eaux-Vives with a view of the lake and Jet d'Eau, as well as Le Salève and Jura mountains.
She has always been fascinated at how the lake changes color throughout the seasons and at different times of day, how it changes in texture due to weather patterns, and various wave formations due to the winds, La Bise (cold wind) and Le Foehn (warm wind). As a little girl, every Sunday morning after breakfast, she would walk down to the lake with her father to feed the ducks and swans, even on the coldest, windiest days. She even remembers seeing an elderly lady get blown into the icy waves one time!
Each time she moved, Lisa enjoyed living near water, even if sometimes it meant going for a short walk to achieve this!
More recently, in 2000, she and her family moved to Bellevue. The proximity of her new home to the lake has been a blessing and when they go for a walk, they end up sitting at the water's edge, where they quietly absorb the water's mood. Lisa likes to see how clear the view of the mountains is, both the Mont Blanc and Le Salève, compared to the last time.
Lisa likes to compare the lake to a paint palette, changing and reflecting. Sometimes it is like a mirror; other times like a raging ocean, lashing out with all its force. At one moment, the sunrise will silhouette the mountains, at another the sunset will change their color. She is always greeted by some ducks, maybe a swan or two, but most often seagulls. The whole thing has become a fascination with Lisa so in January 2011, she made a resolution to record all these special events with photography.
Lisa told knowitall.ch, "There were days when it was easy to wander down to the lake. But other days — when it was raining, cold, and windy — when it wasn't. Somehow it seemed necessary to me to monitor the different seasons, the variety portrayed by weather elements, the ebb and flow of the clouds, and the magnificent colors of the water. It was fascinating to watch the trees burst in spring, then blossom in summer, followed by the rise and fall of their leaves through autumn, and the barren, beautiful branches covered in snow or ice at the end of the year."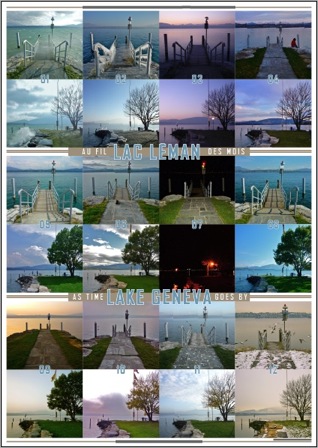 Poster, 50 x 70 cm, a vertical layout for those with less wall space
Even though Lisa's project stopped at the end of 2011, nature didn't! She is so happy to have finalized this poster and recorded as many variations as possible. Of the 652 photos that were taken in the year, only 24 were chosen as finalists to represent each month. She decided on 2 views (out of 4 variations) for this poster entitled Lac Léman - Au fil des mois / Lake Geneva - As time goes by. Notice the 2 views: the Mont Blanc direction and Le Salève/Geneva/Jet d'Eau direction.
Detail of signature and numbering
Choice of 2 layouts: 70 x 50 cm (horizontal layout) or 50 x 70 cm (vertical layout).
The poster can be framed very easily as the poster is a standard frame size. Frames can be bought at Migros, Coop, Jumbo, Conforama, Ikea, and other similar shops with prices between Fr. 20.- and Fr. 40.-.
The quality of this poster is exceptional.
Each copy is signed and numbered by the artist with permanent pen.
PRICE
Fr. 25.-

Fr. 49.-

/1 signed and numbered copy.
Fr. 22.50

Fr. 45.-

/copy for 2 or more signed and numbered copies sent to same address in one box (any format).
Fr. 11.-/order for postage and handling within Switzerland (no matter the quantity). The posters will be rolled and sent in a poster box.
If you would like Lisa to frame the poster for you, and you will pick up, then the price is Fr. 99.-/framed copy. Please contact Lisa by email.

WHERE TO PURCHASE

Possibility to pick up in Bellevue, GE at no extra cost. Please contact Lisa by This email address is being protected from spambots. You need JavaScript enabled to view it..

Click here to order your copy for delivery to your home.

Online shop: C2You! in Lausanne www.c2you.eu