Geneva English School will stage what they call "unashamedly, the happiest show in town" – a romantic fantasy adventure, performed by over 70 students from the school and featuring a dazzling array of popular music from the 50s to the 90s. The show will be performed on 22 to 24 January at the Centre Communal in Genthod.
Set in a fictional central European kingdom, Destiny! covers the trials and tribulations of Maximilian, a young prince and heir to the throne, who teams up with peasant girl, Rowena, as they seek the legendary Queen Who Sleeps, in the hope of winning back their kingdom.
Written by GES Headmaster, Stephen Baird, Destiny! was first produced in 1995 when Stephen was Head of English and Drama at Catteral Hall in Giggleswick, North Yorkshire, England.  Performed again 5 years later in Cheltenham, Destiny! has accumulated a lot of scenery and props over the last 20 years, much of which will be recycled and will feature in the 2015 production of the show.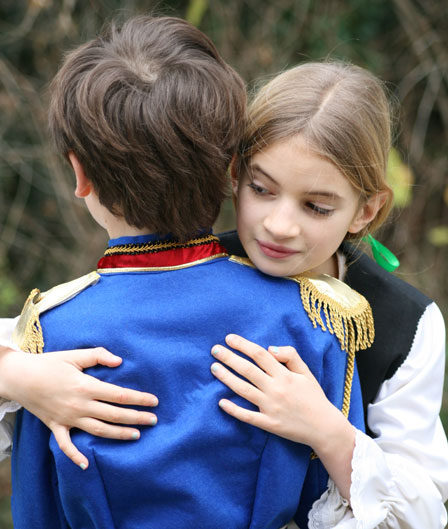 Determined prince + positive peasant girl + hope + courage + love = The kingdom MIGHT be saved!
Stephen explained the choice of venue to knowitall.ch, "Drama is very important to us at GES, and we are continually looking at new ways to develop this part of the curriculum at our school.  Unfortunately, the Gym does not currently allow us to stage performances that require overhead stage lighting, so we had to consider other options for hosting ambitious projects such as Destiny! We are lucky to have such a well-equipped community centre within walking distance of our school!"
He continued, "As schools often do, GES usually performs musicals.  However, this creates dilemmas for the producers.  Do you cast the best singers and hope they can act well enough to carry the whole role, or do you pick the best actors and hope they can handle the singing?  Occasionally, of course, you get both! But I wanted to have a go at taking the acting experience up several notches, so we are putting on a musical with no singing! Intriguing? Enigmatic!"
Destiny! will be performed entirely by GES pupils aged from 7 to 11 years old.  Indeed over 70 students will perform over 100 roles in the show.   However, the audience will not be restricted to parents.  With seating for 300 people, and performances running over 3 nights, there will be ample space for friends, and friends of friends to come and watch. Indeed, anybody who likes a feel-good story with lots of music will enjoy the show!
Describing the musical inspiration for his show, Stephen told us, "When I wrote the show in 1995, I hit on the idea of choosing some tracks from the 50s, 60s, 70s, 80s and 90s. The song that kicked off the story was 'Heartbreaker' by Brotherhood of Man, but it was quickly followed by Petula Clark's song, 'My Love'. Incredibly catchy, it is beautifully and powerfully sung with a clarity that so few singers achieve – yep, probably just Petula and Julie Andrews! It is also a simple, happy and hopeful song – and catapults Rowena into terrifying ordeals before her dream really does come true."
So can Geneva expect to see more shows in the future written by the little known, but talented playwright, Stephen Baird?  Stephen told us, "I have written two other plays AND a rock musical for children based on the life of King Charles II !! I have also self-published a novel for teens, and time-warped adults, called "Fire in the Straw", which is available on Amazon. So you never know, there is plenty of material to work with! But there is also plenty to inspire me to create new stories in Geneva! You only have to read the stories of our young students, clearly inspired by the view from their classrooms looking towards Mont Blanc, to realize the huge potential for creative writing that we have at Geneva English School!"
For more information about the show, visit the website: http://www.geneva-english-school.ch/information/events/destiny-unashamedly-the-happiest-show-in-town
Destiny!
Performed by the students of Geneva English School at the
Centre Communal de Genthod
Chemin de la Pralay 4
1294 Genthod
Switzerland
22-23-24 January 2015
Doors open 6pm.
Performance starts at 6.30pm and finishes at 8.30pm.
Free entry.
Refreshments will be on sale during the interval. CASH ONLY.