© Elargis Tes Horizons
By Denise Nickerson, Educational Consultant

On November 16th at Uni Mail in Geneva, nearly 400 girls participated in a day of workshops, interaction with women scientist mentors, a career fair and lunch. The girls, all age 11-14 were enjoying the third Elargis Tes Horizons event to come to Geneva since 2009. Many of them found out about the event through flyers that were distributed to girls in the Geneva area public schools. Girls from other cantons, France, and private schools were also welcomed. Incredibly, this event was entirely free of charge.

35 interactive workshops were offered, all led by women working in Science, Technology, Engineering or Math careers, or STEM careers. Workshops were offered in French and/or English. Each attendee was able to attend two workshops of her choice, and have one workshop period to visit the career fair and talk with professionals working in the sciences. Over 80 volunteers were on hand to help the girls register and find their workshops. Parents were also welcomed to interact with a panel of experts about how to support their daughters in the pursuit of scientific study and professions.
After the fair one young participant, Rebeka, told me: "On Saturday I went to the science fair at University of Geneva. It was really inspiring and showed science in a way that I had never imagined. It was fun and interesting and that was not what I thought before! I loved it."

Elargis tes Horizons originated in the USA under the name Expanding Your Horizons. Women scientists created the organization and events in 1974 in California, USA. Around the world, about 25,000 girls participate in Expanding Your Horizons events every year. Through these events, more than 750 thousand girls have benefited from the enthusiasm and encouragement of volunteer mentors.

You can learn more about the global organization here: http://www.expandingyourhorizons.org/

STEM studies and careers are still largely pursued by boys from secondary school through university resulting in real disparity in the workforce. Switzerland's workforce is particularly marked by gender segregation with men working in traditionally "male" professions and women working in what have been considered "female" professions. Less than 1% of the Swiss workforce crosses the gender line in the most stereotypical jobs according to a 2013 study at Basel University. The European Commission puts Switzerland at the bottom of the equality ladder in a 2012 report.

You can read more about gender segregation in Switzerland here: http://www.swissinfo.ch/eng/swiss_news/Why_jobs_for_the_boys_remain.html?cid=37194328

The cantonal and city government in Geneva has set an educational objective to overcome gender segregation in both studies and the workplace, so the Elargis tes Horizons project was easy for them to support. Thanks to them, to the Université de Genève, CERN, HEPIA, EPFL, Covance, Medtronic, Delance, Kids Info and Future Kids the girls enjoyed a fantastic day entirely free of charge. Girls registered for the event on www.elargisteshorizons.ch. The next ETH event in Geneva will take place in November 2015 and there are plans in the works to create more Expanding Your Horizons events throughout Switzerland in the future.

I'm delighted to be a volunteer supporter of ETH/EYH. It was so exciting to attend and to meet students, mentors, and women scientists representing places like CERN and the University of Geneva. I'm also the mother of two daughters who can't wait to be old enough to attend ETH themselves – one who has already asked me how to make a robot! I'll be sure to keep you informed of future events both in Geneva and potentially in other locations in Switzerland.
Bio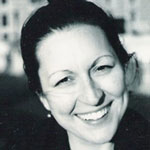 Denise Nickerson, co-author of Know-it-all passport's Education Guide Switzerland is American and French. She is a Fulbright scholar with a Teacher's Certification and a Master's Degree in Education. She has been a speaker in over 300 international schools in 30 different countries. She works as a speaker, writer, college and university counselor, and educational consultant working with families around the world, as well as providing training and development for educators in schools and universities. International education is her passion!