By Tara Lissner, Swiss Gardening School
What a wonderful September we've been enjoying. The summer heat may be long gone but gentle temperatures, sunshine and just a touch of rain are spoiling us. The soft September light sets off the brilliant colours of autumn; the orange, yellow and red of flowers, leaves and fruit – a beautiful time, a wonderful season. This time of year allows us to consider where we succeeded and where we need to concentrate our efforts while allowing us to get things into shape before the cold and dark days arrive. I've been working on a large plot, removing very old large growth, weeding a lot, turing the soil with the aid of a man with a digger, raking over again and again and finally covering the space with geotextile. Now all I have to do is make a plan for planting. Planning improves our chances of success. Take a close look at your garden and your vegetable garden, what worked, what failed, what did you really enjoy eating and what got left behind – each question has an answer and each answer allows for a change. Photographs also help with planning, take many and remind yourselves later in the year what you loved and what you can do without – make the change, easier said than done I realize but it is important to start.
At this time of year there is so much to do, in fact at almost every time of year there is so much to do. This is the time of that mad dash to get the garden ready for winter before you no longer want to step outside. Tidy up the flower beds, deadhead the blooms that have gone over, allowing energy to be directed to the remaining buds; keep on top of the weeding as weeds continue to grow well; lawn care and repair should be high on the to do list after our scorching summer. Plan some time to buy some bulbs, already now I hear you but yes already now. All local garden centres, DIY shops and even supermarkets carry a vast selection of bulbs. The best choice and the best quality is available now, don't delay. They may be planted in borders, in the lawn or in pots and will give you tremendous joy in the spring when plants, trees and shrubs are dormant.
Driving through the French town of Divonne and the Swiss villages of Mies and Prangins this week reminded me of how lucky we are to live in an area where such tremendous investment is made in public spaces. Each of these villages/towns has huge areas of fantastic planting, packed with vibrant colours and wonderful texture and all still looking really fantastic. Soon the efficient employees of the "espaces verts" will come by and pull everything up to make room for the winter planting so if you are looking for inspiration go for a walk this weekend. Take photos of the plants that you like and would like to have in your garden. Look at colour combinations, not only of flower colour but also of leaf colour and size. Often we see combinations that we would not necessarily be drawn to plant at home but seeing them at their full size in all their glory may encourage us to be a little more adventurous. Visual lessons everywhere.
What's on

Marché au Roussillon Fleurs, Meyrin, Saturday 4 October, 09:00-19:00
This hidden jewel of a perennials nursery has been in existance for fifity years. For those in the know they have a fantastic selection of grasses, many planted up in a garden where different conditions have been specially created, damp, shady, dry etc. to demonstrate ideal growing conditions. The annual open day and market will be held next Saturday. Meet the experts, enjoy the market and take a stroll through the garden and nursery.
Roussillon Fleurs

Journées des Plantes au Lac d'Aiguebelette, 3-4 October, 10:00-18:00
Situated close to Chambéry, just over an hour from central Geneva, the autumn edition of this plant fair attracts growers from all over France who come to share their knowledge and plants. Located in fields above the Aiguebelette lake wellies are recommended in case of inclement weather.
Lac d'Aiguebelette
Fête d'automne de l'Arboretum, Sunday 4 October, 10:00-18:00
The autumn fair of the national arboretum brings together a display of the many varieties of apple, an apple juice pressing stand and an afternoon tour among other activities. A day out above Aubonne to learn about this local resource.
Arboretum
Courses
This new season sees us launch a series of stand alone two-hour morning workshops. Each will be held off-site at a specialist nursery or garden. Evening courses will return shortly and we will continue to run our popular morning courses. Further details will be on-line once the locations are confirmed. Don't forget all registration and payment is via the website, sign up so as not to be disappointed.
Workshop - Gardening with grasses, Thursday morning 24 September, 09:30-11:30, Roussillon Fleurs, Meyrin
This workshop will explore the incredibly versatility of these plants in your borders. They will bring colour, texture and season-long interest to your garden. Students will have the opportunity to examine the grasses closely and appreciate their differing growth habits and needs. We will pay particular attention to individual requirements. In addition to a box of grasses to take home, students will also benefit from a 10% reduction on any plants purchased on the morning of the workshop.
Gardening with grasses
Workshop - An introduction to perennials, Tuesday morning 29 September, 10:00-12:00, R. Jaggi, Trélex
This workshop aims to remove the mystery of integrating perennials into your garden. A very much hands-on approach will have students "plant up" a gravel area with a selection from the nursery allowing them to see the impact of shape, size and colour on their personal spaces. In addition to a box of perennials to take home, students will also benefit from a 10% reduction on any plants purchased on the morning of the workshop.
An introduction to perennials
Workshop - Winter vegetable gardening, Tuesday morning 6 October, 10:00-12:00, Prangins
We will explore this fantastic, restored, walled vegetable garden and learn the secrets of winter vegetable gardening, managing expectations by planting the correct varieties. Learn what to grow this winter.
Winter vegetable gardening
Workshop - Winter pots & containers, Tuesday morning 13 October, 10:00-12:00, R. Jaggi, Trélex
Bring a smile to your face this winter when admiring the beautiful container you created at this workshop. Learn what to plant to last through the cold months and be surprised by the bulbs when they appear in spring. A hands-on workshop will have students create their own plant combinations.
Winter pots & containers
Author's bio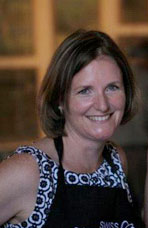 An enthusiastic, self-taught gardener, Tara Lissner is passionate about gardening and eager to share her zeal and knowledge with other gardening fans.
In 2012, she joined forces with Hester Macdonald, a British-trained landscape designer, to launch the Swiss Gardening School.
(Photo by Jean-Luc Pasquier)
Swiss Gardening School
www.swissgardeningschool.com
Save