I have been thinking about getting my paintbrushes, acrylics and art box out for months, and preparing a new piece of art for my bare wall.
Whilst I was walking round IKEA, I saw a huge photographic framed art piece reduced to half price and then I got thinking. What if I were to paint over this and create my own original piece of art? At the asking price, I couldn't leave it behind. The cost of a prepared canvas of this scale, would have been four times the price.
So with a bit of imagination and much excitement, I set off by priming over the art piece with white gesso. It took about 4 coats but then it was ready for whatever medium or material I wanted to add to it.
Much inspired with my massive saving, I ran through a number of my old art collection of prints, badly chosen artwork, and shop-find artwork with no real value but beautiful frames. These will be the starting point for my next artwork projects – reclying artwork is the way forward – give it a try!!
Don't forget to sign up for my next workshop on 'Modern design for your home' – Thursday, 25 September in Nyon. Renowned modernist architect Ludvig Mies van der Rohe once said 'Less is More' and I believe this is what sums up modern design. The workshop will cover the following areas:
How did modernism evolve
Modern styling and its main characteristics
Key advocators of the movement and their furniture
Scandinavian, Industrial and eclectic modern design
The workshop will allow you to both understand modernism or perhaps inject a modern touch in your home projects!
Author's bio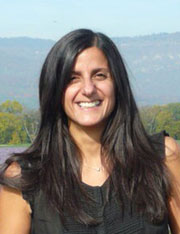 Trained at the KLC School of Interior Design in London, Sophia Kelly ran her own Interior Design practice in London for over 10 years.
Building on the success of her UK business, Sophia has now set up a new design practice in Switzerland, called Sophia Kelly Home Design. Responding to the growing demand for home design services in the international community, Sophia provides a range of tailor-made services, which are perfect for clients who have just moved into a new home or who simply need help reorganizing one that they have lived in for many years!

Sophia Kelly Home Design
This email address is being protected from spambots. You need JavaScript enabled to view it.
078 612 57 45