By Sunita Sehmi, Walk The Talk
An interview with the wonderful and wise Julia Samuel
The Hon. Julia Aline Samuel MBE is a British psychotherapist and paediatric counsellor and the daughter of James Guinness and his wife Pauline. Julia Samuel is also Godmother to Prince George and one-time close friend of Diana, Princess of Wales. Julia was awarded an MBE in the 2015 New Year's Honours list for services to the bereaved. Grief Works is her first book. She has spent the last twenty-five years working with bereaved families. She began working at St Mary's Hospital Paddington where she established the role of maternity and paediatric psychotherapist. In 1994, she helped establish Child Bereavement UK. She is its Founder Patron and continues to play a central role. In her first book Grief Works Julia believes it is important to acknowledge that death is an inevitable part of life, and yet we still find it difficult to talk about. There are countless books on the market written about this sensitive topic but there is not one that is so accessible, plain talking and soothing. Grief has been a huge part of my life after my husband lost his mother when he was 22. I bought Julia's book to understand this complex issue. I was so moved by her courage to talk about the unspeakable and go to those places as a society we don't dare to go to. I feel so very fortunate to have interviewed her. Enjoy.
"Whether it's the Duke of Cambridge grieving the loss of his mother or it's one of her NHS patients, feelings don't change because of background."
Tell us about yourself.
I am 58, I have been a psychotherapist specialising in grief for 25 years. I have four children and four grandchildren. My first counselling job was as a volunteer for Westminster Bereavement Service 26 years ago. Although I felt daunted, inadequate and scared in the face of their anguish I knew early on I had found the job for the rest of my life. It led me to persuading a board of Obstetric Consultants at St Mary's Hospital, to take me on as their first counsellor; to support the families whose babies and children had died. I worked there for the next twenty-three years. I learned from those families, that the response they received at the time of the death; how they were spoken to, the choices and information they were given, how much time they had with their child before and after the death, had a significant impact on how their grief progressed. It inspired a determination in me to take that learning beyond my room in Paddington, out into the world. So, with Jenni Thomas as Founder, I worked as Founder Patron to establish and launch Child Bereavement UK.
Tell us more about your work
The more I have learned the more I have realised what I don't know both practically and psychologically. I wanted to know what more could I offer, what more could we do psychologically. I wanted to know how come this person was behaving like that, and how come I said one thing, but held back what I really wanted to say? How could I find a way of saying it all? How to make sense of their response? What was going on for them and how to broaden the lines of understanding to feel connected with this person?

"Death ends a life but not a relationship."

In your opinion why are we still finding it difficult to talk about grief?
Our culture is imbued with the belief that we can fix just about anything and make it better; or, if we can't, that it's possible to trash what you have and start all over again. The Victorians were very good at dealing with death, but terrible at addressing sex. The reverse is true now. Sex is discussed in every media portal in every way, and death is hidden away in mortuaries. This book would like to make death as easy to talk about as sex. Not to trample on fears and defences about death, but to be so accessible, practical and informative that people feel comfortable reading it and much more confident. Grief is the antithesis of this belief: it shuns avoidance and demands endurance, and forces us to accept that there are some things in this world that simply cannot be fixed.

What have you learnt from your clients?
I'm inspired by the extraordinary people I meet, some come to me seeking support, others want me to help raise awareness of the needs of bereaved families.

Tell us more about your book
The aim of this book is to address the fear that surrounds death and grief and to replace it with confidence. People need to understand that grief is a process that has to be worked through – we know from experience that grief is work, extremely hard work; but, if we do the work, it can work for us by enabling us to heal. The natural process of grieving can be supported in such a way as to allow us to function effectively in our daily lives, and this book will come to play a useful role in providing this support.

'People need people. Love heals loss. Be available; be there. Say what you need to say.'

What is the biggest takeaway from the book?
When we are grieving it affects every part of our life and our sense of identity, which can mean even getting through a day can seem overwhelming.
8 Pillars of Strength: These Pillars of Strength are a system of support, that can help you every single day. It involves work to build the pillars – they don't just appear out of the blue – together with the commitment to keep working on them. The more regular and habitual that becomes the more effective they can be. I am confident they will help you feel physically and emotionally stronger. We are all unique, so you will need to shape these guidelines to work for you. They are based on well researched evidence, and work as an organic whole, and are therefore more effective if we work on them all, not just one or two. This may seem impossible in the first weeks and months of grief for some, but don't give up on the idea, come back to them later.
"Grief has no rules. How long it takes one person will vary to the next. What I know for sure is we all need support and the type of support, help and encouragement."

What advice do you have for expat communities when they are dealing with their grief?
I think a good walk in nature is very comforting, and find ways of comforting yourself. Make friends, reach out and connect, tell people what is going on. Our biggest mistake is shutting people out when we need that human connection the most.

Grief feels like fear and the body seems to keep the score. What do you recommend?
We hold grief in our bodies and it feels like fear. I really think when we are going through grief we should wear a black ribbon that signals to people that we are grieving.

What is the best piece of advice you were ever given?
You are more likely to regret what you haven't done than what you have done.

What's the next challenge for us regarding grief management?
Death is the last taboo in our society, and grief is still profoundly misunderstood. So many of us feel awkward and uncertain around death, and shy away from talking honestly with family and friends. That ignorance means people don't understand themselves and are often misunderstood, which aggravates their suffering. It's the way we talk about life and death that needs to be revolutionised. Death is the great exposer: it forces hidden fault lines and submerged secrets into the open and is still greatly misinterpreted. The minute you're scared by a person's pain, you get paranoid. I'm not wanted, not needed. I'm going to take myself out of the equation.
Reference:
Sunita's Bio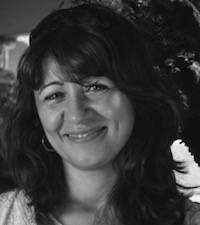 Sunita is an Executive Coach, Trainer and Consultant. She is of Indian origin and was born in London before moving to Geneva in 1992. She has a Psychology background (specialising in Occupational Psychology) and a Post Graduate in the Development and Training of Adults. She also completed a Masters in Ressources Humaines, Coaching et Gestion des Carrières at the University of Geneva.
During her 25 years experience Sunita's drive has always been to help people to do their best and hence led her to create Walk The Talk.
In her free time Sunita is a Mentor for the Branson Center of Entrepreneurship and a proud member of the School in The Cloud Team.
Save
Save
Save
Save
Save
Save
Save
Save
Save
Save
Save
Save
Save
Save
Save
Save
Save
Save
Save
Save
Save
Save
Save
Save
Save
Save
Save
Save
Save
Save
Save
Save
Save
Save
Save
Save
Save
Save
Save
Save
Save
Save
Save
Save
Save
Save
Save
Save
Save
Save
Save
Save
Save
Save
Save
Save
Save
Save
Save
Save
Save
Save
Save
Save
Save
Save
Save
Save
Save
Save
Save
Save
Save
Save
Save
Save