By Sarah Santacroce at Simplicity
You know those messages you get on LinkedIn, telling you that "your LinkedIn profile is now 60% complete" ? Well, in order to achieve the 100% completion, your profile must include three recommendations or referrals given to you by others. These referrals can be from clients, strategic partners or even professional colleagues. For small business owners I'd like to increase that number to 7 referrals. Don't ask me why 7, I don't have a good reason for it, I just like that number better than 3. 3 is the bare minimum, 7 is the ideal number.
Why should you have recommendations on your profile?
Because you get more inquiries: according to LinkedIn users with recommendations in their profiles are three times more likely to receive relevant offers and inquiries through searches on LinkedIn.
Because people search online before they buy and will come read what other people say about your services on your profile
Because every time you get a recommendation, it will show up in your network's newsfeed as well.
Where do the recommendations show on your profile?
Recommendations will appear in two places on your profile page. At the top of a profile, LinkedIn shows a Recommendation counter, while a detailed-view of each recommendation appears toward the bottom of a profile. Recommendations are visible to your personal network and Fortune 500 companies utilizing the LinkedIn Recruiter Tool.

How do you get recommendations?
The simplest way to get recommendations is to ask. Satisfied clients are usually more than happy to share their experiences. To make it even easier for them, you can suggest to write them a rough draft that they can simply edit and add their personal touch to it. This is a totally legitimate process, it's done all the time in HR. This way you get to write more or less what you'd like to have in the recommendation, and make it easier for the other person as well.

What makes a "Good Recommendation"?
A good LinkedIn recommendation is specific. It says something about your skills, the results they achieved thanks to you and maybe your personality
A good LinkedIn recommendation is long enough but not too long
A good LinkedIn recommendation ends with a … recommendation! "I highly recommend you hire XYZ for your accounting needs…"
Author's Bio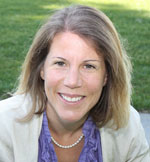 Sarah Santacroce is a certified social media, internet marketing, and virtual event specialist. She enjoys every aspect of small business marketing. It is her mission to help other small businesses and solopreneurs increase their visibility and use social media tools as part of their marketing strategy.
Sarah draws on 12 years of experience in Business Administration, in fields ranging from Employee Training to Public Relations at big and small companies. She became interested in Online Marketing and Social Media to promote her own business and after lots of research and numerous classes and webinars she is now offering that knowledge to other small- to mid-sized businesses who struggle to find their place on the web.
This article is the second in a series of regular contributions that Sarah will be making to her guest blog on knowitall.ch. You can see more articles from Sarah on her own website at: www.simplicityadmins.ch
To sign up to receive Sarah's newsletter, just fill in your details below: