By Sarah Santacroce at Simplicity
Not getting those leads from LinkedIn yet? Then I'm challenging you to participate and spend 10 minutes on LinkedIn every day. Implement the tips that you will receive via e-mail, share updates, update your profile, grow your network and build relationships. This is already the second round of this challenge. In June of this year we had 700 participants!

How Does it Work?
By signing up & committing to the LinkedIn challenge you will receive very specific tips via e-mail every other day which you can implement right away. I've invited several other LinkedIn experts to participate, including:
Why Should You Join?
Because you have neglected LinkedIn up till now, not giving it the credit it deserves

Because you're not yet seeing those leads coming in

Because there's so much more to LinkedIn than you would think, and this challenge will show you

Because it's a fact that LinkedIn drives the most targeted traffic to your site

Because it's FUN !
So are You IN or are you OUT?
If you're IN, then click HERE and submit your name & e-mail in the box. Then let your network know that you will be participating by sharing this post with your LinkedIn network. Just click on the LinkedIn Share button and in the comment say something like 'Just signed up – will you join me?'.
I look forward to 'seeing' you on the challenge !

Sarah Santacroce
***********************************************************

Not getting those leads yet from LinkedIn? Want to learn more about how to take full advantage of this powerful networking tool? 

Then join us for the 2nd edition of The LinkedIn Challenge! Starting Dec 1st, but registration is open now!
http://www.bit.ly/linchallenge

Author's Bio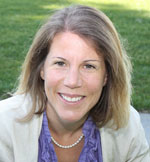 Sarah Santacroce is a certified social media, internet marketing, and virtual event specialist. She enjoys every aspect of small business marketing. It is her mission to help other small businesses and solopreneurs increase their visibility and use social media tools as part of their marketing strategy.
Sarah draws on 12 years of experience in Business Administration, in fields ranging from Employee Training to Public Relations at big and small companies. She became interested in Online Marketing and Social Media to promote her own business and after lots of research and numerous classes and webinars she is now offering that knowledge to other small- to mid-sized businesses who struggle to find their place on the web.
This article is the second in a series of regular contributions that Sarah will be making to her guest blog on knowitall.ch. You can see more articles from Sarah on her own website at: www.simplicityadmins.ch
To sign up to receive Sarah's newsletter, just fill in your details below: