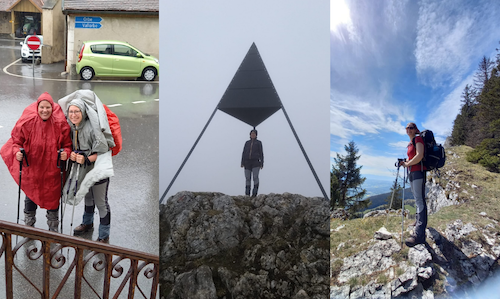 By Marta Koncz, www.agateexperience.com
Lately, I was asked several times what to wear on hikes, with a special interest in which shoes are suitable.
Well, in terms of clothes, the magic word is layers! Spring or summer, the weather can change very quickly in the mountains, therefore it is useful to have a light pullover and rain proof windbreaker in your backpack. Keep in mind that it is always a few degrees colder in higher altitude!
However, make sure not to wear too many clothes. You will warm up while walking and it will feel good to take those layers off. Also, you will be highly exposed to the sun. Therefore, it is essential to have a cap, sunglasses, and sun cream with you.
Choosing hiking shoes can be quite confusing. There are endless choices from ultralight trail shoes to heavy mountaineering boots. Unless you plan some serious multi-day trek or climbing Mount Blanc, look for something comfortable and light for day hikes.
When I buy hiking boots, I always make time to spend some time in the store, wearing the boots for 15-20 minutes and walking around in them to check if they are comfortable. Don`t be shy to try several ones to feel which one is the best fit!
Make sure the boots are not too heavy. The marked hiking routes you will most probably take are very well maintained and do not require anything specific. If you end up with massive boots developed for difficult terrain, due to its weight, you will get tired quickly.
Most hiking shoes are made of leather or Gore-Tex, and they are waterproof to a certain extent. Make sure to use some impregnation spray if needed.
The very last thing to decide is to have low-cut shoes or high-cut boots. Frankly, both work perfectly. Personally, I prefer boots over shoes, and, if your step is uncertain, they might be the best option for you as well.
Author bio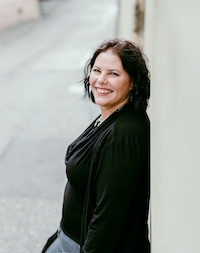 After a successful corporate career in supply chain management, Marta Koncz, took the leap to follow her passion for travel and start her own business: Agate Experience, to help people discover and explore the hidden gems of her adopted home country, Switzerland.
Marta has always loved to travel, to discover new cultures, dishes, and customs, and experience something new. Even as a schoolgirl she planned trips for her classmates. As an adult, travelling was more than just a passion, it was also a therapy for Marta as she found she learnt a lot about herself through her adventures and seeing life through a different lens. It was also the perfect way to destress and relax from a busy working week.
Through Agate Experience she offers fun travel experiences and opportunities to discover the hidden gems of Switzerland.