By Steve Long, InterSoccer, and Olivia Higgs, Intern
Covid-19 has made life a little hectic for all families the past few months, to say the least. Sports and Leisure Camps have finally been given the green light to go forward and InterSoccer Fun Football Camps are now up and running for the summer as well as many quality camps in the area. Our excitement for outdoor sports remained, we have never been happier to be back!
Being a parent is difficult as it is, but all camp organizers have ensured that health and safety measures are meeting the community guidelines. Following directives from the Swiss government, your children's safety will be paramount this summer as everyone looks to get back to normal life.
Lockdown pushed families to the limits. Nonetheless, times are changing and slowly progressing to get everyone back to our normal routines. It's important for this summer to make sure that your children are staying fit, healthy and most importantly of all, happy and having fun.
For children, after such a long period of time without social interaction and seeing their best friends, a perfect way is to pass some of the holiday is to join some of the fantastic summer camps on offer in the region.
This will be a great opportunity for children to make new friends, improve their skills and technique in a safe environment whilst also learning all about team-building and fair-play.
This is also a great chance for parents to relax after a difficult 2-3 month period by putting their children into camps. It's finally time to enjoy summer and start living.
Click on knowitall.ch's CHILDREN'S ACTIVITY CALENDAR to see a great range of summer camps that include sport, technology, crafts, music and theater, and multi-activity.
With the holidays just starting, InterSoccer has ensured that children age 3-13 can enjoy a summer full of activities and keeping healthy at camps near you every single week in the Geneva and Vaud region for 1-5 days, plus also in the Swiss German region.
Author's Bio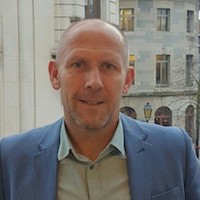 Steve Long is CEO of InterSoccer, which offers football courses and holiday camps for two to 13-year-olds in Geneva, Vaud, Basel, Zug and Zurich. Steve first came to Switzerland in 2001 as an event and grassroots manager for UEFA, before co-founding InterSoccer in 2007. He loves all sports, especially football, snowboarding, tennis, golf and mountain biking. Originally from Nottingham, UK, he still supports The Mighty Reds - Nottingham Forest.