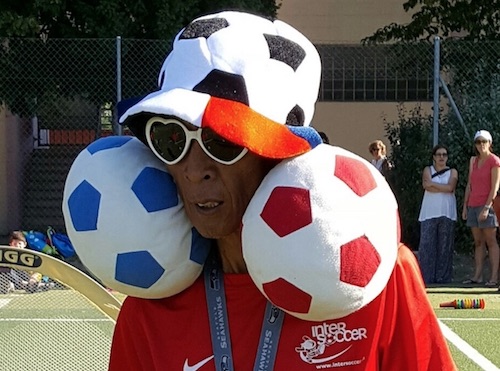 Buddy, a veteran InterSoccer coach
By Steve Long, InterSoccer
What does it take to make a good children's football coach?
Gone are the days when trainers used to think it was a good idea to focus only on the children with an obvious talent, and ignore the less natural or confident players.
Now it is accepted that a coach's job is to ensure that every child has the opportunity to grow their skills in a supportive and encouraging environment, thereby developing into confident and well-rounded young adults, whether or not they choose to play sports beyond grassroots level.
So what does it mean to coach Generation Z?
And how can you make sure you succeed as an outstanding coach? For many people their first experience of coaching is during adolescence, helping out at their local football club or grassroots organisation where they learned to play themselves.
However, just because you know how to play football, doesn't mean you already have the soft skills needed to teach it.
If you are just starting out, whether as a teenager or perhaps as a parent helping at your child's school, follow these principles of coaching and you can't go wrong.
1. Know your football. Almost as soon as they start learning to play – and sometimes beforehand– many children love to watch live matches on television with their families. Help them to learn the rules of the game by discussing what they saw next time you meet them.
2. It goes without saying that to teach football, you have to play well. If you are no longer in a team, sharpen up any rusty skills by joining a friendly five-a-side and try to remember what it felt like to believe that one day you could end up playing for your country.
3. Have the patience to teach techniques from scratch. Good teaching is being able to explain something you have done thousands of times, at the right pace for someone who has completely fresh eyes and probably needs several attempts to understand the concept.
4. Be full of silly jokes to make children laugh. The best remedy for children who are shy, nervous, upset, tired, or grumpy, is nearly always a joke or, even better, you falling over.
5. It might seem that coaches are in a lone position surrounded by a group of subordinate kids, but it is essential to work well as a team with players and other coaches. If they don't like and trust you, they won't listen to your advice anyway (this applies equally to the other coaches and the children).
6. Model good sports(wo)manship. If you get seriously competitive, and over-jubilant about a victory or annoyed about a loss, how are your players supposed to learn to put their failures behind them and act respectfully towards other teams?
7. You need to be able to adapt your style to different age groups. Be prepared, when teaching little ones, that your appointed goalkeeper might desert his position to spend the game chasing the ball, or throw himself to the floor in floods of tears if someone scores against him. Help them to express and deal with their emotions early on and perhaps they will make it to adulthood without gesticulating or worse at any rivals who foul them.
8. Also adapt your style to different levels of ability. It has been proven that football teams where every player is valued and cheered on, not just the champion strikers, perform better overall and are more likely to produce successful athletes.
9. Learn about good coaching methods. Like all industries, ideas about coaching change all the time, and there are a number of interesting blogs and news sites to read. Try following the infographics of BelievePerform, the Working With Parents In Sport blog or one of the many others. There will be an international conference on coaching in Geneva on May 10 and 11, organised by the Inside Game Coaching Network.
10. This is probably one of the biggest ones – handle parents sensitively. Feelings run high when treasured children are playing sport, and mums and dads can get more upset than the younger generation. Try to set an example to parents about not taking the results too seriously, and always be fair to every player – even if his or her behaviour has not been impeccable. While I would hope that the horror stories from around the world about parents clashing with coaches would never happen in the Geneva area, a little diplomacy with families can go a long way.
11. Importantly, be quick at tidying equipment against the clock. Coaching doesn't start and end with football – it takes time before and after the session to make sure everything is in the right place. You might be lucky and get a group of children who will help you enthusiastically – make sure you are training them to do so from the very first session.
12. Last but not least – remember to smile. Even on the coldest, wettest day of the season, the kids who have turned up have done so because they love football passionately, far more than they care about being warm and dry or staying indoors glued to their screens. What's not to love about that?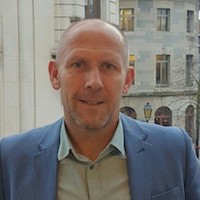 Steve Long is CEO of InterSoccer, which offers football courses and holiday camps for two to 13-year-olds in Geneva, Vaud, Basel, Zug and Zurich. Steve first came to Switzerland in 2001 as an event and grassroots manager for UEFA, before co-founding InterSoccer in 2007. He loves all sports, especially football, snowboarding, tennis, golf and mountain biking. Originally from Nottingham, UK, he still supports The Mighty Reds - Nottingham Forest.

www.intersoccer.ch