Photo courtesy of Elizabeth Heard, a member of GAOS and PYP Coordinator at GEMS World Academy-Etoy
Last week, I was back in the UK for my sister's wedding. It was a magical day, the weather was perfect and everyone dressed the part. As I reflected on this, I started to think about how the way we dress helps us to assume a role and find the confidence which often eludes us in our daily lives. Doesn't every little girl crave the fairy-tale wedding where she finally gets to take centre stage and become a princess for the day?
Our fascination with dressing up starts at an early age. Our imaginations as children run free. A lack of inhibitions allows us to play dress-up games both at school and at home, assuming characters and roles which transport us to fantasy worlds and allow us, above all, to have fun. For some, this continues into adult life: my thoughts are now swiftly directed towards the world of amateur dramatics. I haven't been in Switzerland for very long, but some eight years ago I came to Geneva as an actor to perform at the Casino Theatre. Here I met many local expats who spoke enthusiastically about their participation in the local amateur theatre scene.
Last month, I experienced this first-hand when I witnessed a colleague manoeuvring majestically around the stage in the Theatre de Marens, Nyon, wearing nothing but a lycra bodysuit. This production of Cats, performed by the Geneva Amateur Operatic Society (www.gaos.ch), conjured up both the good and not so good memories of my amateur theatre days. However, I was pleasantly impressed with this production, which was extremely pleasing to the eye.
So why do these adults feel compelled to dress up like Cats and take to the stage in front of hundreds of spectators? How do they find the time and energy after work to fit in the rehearsals during the many evenings and weekends? Why do they do it?
One of the reasons must simply be that this is a highly enjoyable pastime. Amdram offers so much, to so many. It brings together people from different social backgrounds, a diverse range of professions and, in many cases, different nationalities. Looking beyond this, of course, other reasons may exist. It can provide a great social life, be culturally gratifying, keep you fit and active, provide a stepping-stone to a professional career and, of course, facilitate an unparalleled networking opportunity. If English is not your native language, then what better a way to build your confidence and develop your vocabulary than to perform in an English theatre production? The same may apply to native speakers. Getting up on stage in front of hundreds of people is no mean feat and requires a certain degree of courage and self-confidence. Every performer on that stage was well deserving of the rapturous applause for that reason alone.
Naturally, we shouldn't forget the many involved in such productions who are not performing on stage: directors, make-up artists, choreographers, set designers, stage management, sound, lighting, front-of-house to name but a few. These people are the backbone of any production and merit the thanks of all.
I appreciate that musical theatre may not be everybody's cup of tea, so for those of you who shy away from this, the Geneva English Drama Society (www.geds.ch) or the Village Players Lausanne (www.villageplayers.ch) may be more of interest. Please refer to the Theatre section of the www.knowitall.ch Calendar for more information.
Amateur dramatics offers something for everyone, whether onstage or off. It is a leisure activity unlike any other. Give it a try – you may surprise yourself.
Author's bio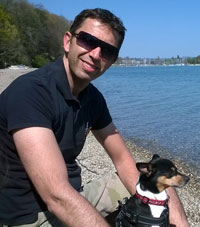 Dean Marriott was born in London and educated in the UK and Germany. He retired from a career in finance, aged 33, and subsequently retrained as an actor and teacher. From an early age, his passion for languages has underpinned both his professional and social lives. In his quest for leisure activities, Dean keeps one key thought in mind: if Shakespeare's words are true and 'All the world's a stage', we shouldn't have to look far in order to be entertained. We just have to make the time to appreciate it.
If you are searching for an element of entertainment in your leisure pursuits and have a desire to look beyond the obvious, then Dean will use his artistic eye to point you in the right direction.
Dean is currently the Director of the World Language Learning Centre at GEMS World Academy-Etoy, where he promotes the idea that language learning is about embodying a new language, not simply studying it.