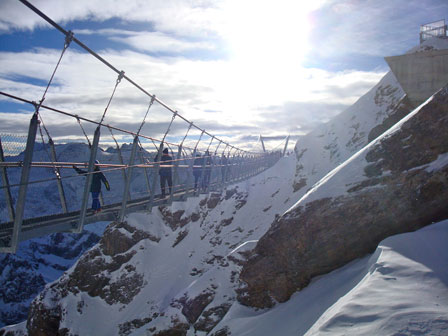 By Lisa Gibson, http://misswissbliss.wordpress.com/
Calling all thrill seekers and adrenaline junkies: if you are up for the challenge, a visit to Europes' highest suspension bridge is just for you! Situated on the Titlis glacier in the Engelberg region at an altitude of 3 000 meters above sea level, nothing beats the thrill of crossing the Titlis Cliff Walk!
Constructed 500 meters off the ground, this pedestrian bridge was constructed over a period of only 5 months. Much of the material used in the construction was transported in cable cars, with larger sections being delivered by helicopter. The bridge is designed to withstand winds reaching up to 190 km/h as well as significant snowfall (around 500 tons to be exact), so the bridge is claimed to be 100 percent safe. On a clear day, it's possible to view the glacier below as well as the Uri Alps and even part of Italy.
The Titlis Rotair gondola, which takes visitors up to the summit, is an experience in itself. The gondola revolves 360 degrees during the five-minute ascent, treating passengers to panoramic views of snow-covered mountains and sheer rock faces.
For those who are not big on heights, there are plenty of other activities to enjoy once at the summit, including a visit to the glacier cave – a fascinating look at the inside of a glacier. Winding ice tunnels lead you deep into the heart of the glacier, where temperatures reach a frosty -1.5˚C.
The viewing platform is a great place from which to take photos of the surrounding mountains, which are covered in snow all year-round. There is even a chocolate shop located on the 3rd floor of the mountain station for those with a sweet tooth and a variety of food options to choose from when it's time for a snack. The Panorama restaurant offers diners amazing wrap-around views of the mountain peaks, so one can even appreciate the scenery from inside.
Kids and adults alike can enjoy a day snow tubing in the Trübsee snow park, which is open from December through until April, depending on weather and snow conditions  - entry is free!
Although a fairly long trip to do in one day, it is entirely doable and worth the journey!
How to get there
From Lausanne/Geneva, you can go by train or car to Luzern. From Luzern, it's possible to drive or to make use of the Engelberg Express to reach Engelberg. Trains generally depart Luzern at 10 past the hour on Track 13 and travel time from Luzern is just over an hour.  
Note
The suspension bridge is closed in bad weather, so be sure to visit the website before planning your trip!  http://www.titlis.ch/en Entry to the Cliff Walk is free of charge.
Author's bio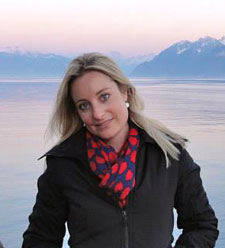 Originally from South Africa, Lisa Gibson moved to Switzerland in 2011 with her fiancé and has enjoyed every minute of this adventure. Currently based in Lausanne, she's a freelance and feature writer. She started her personal blog as a means of documenting her travels (both in Switzerland and around the rest of Europe) and as a way to share the expat experience with friends and family back home.
 
Lisa's love for Switzerland goes back to when she first visited as a teenager more than 15 years ago - so living here has been like a childhood dream come true! As an adult, her love affair with Switzerland continues… she loves exploring the region and discovering the lesser-known gems, often not mentioned in the tourism brochures.
 
The saying "Travel is the only thing you buy that makes you richer" could not be more true for her.
 
http://misswissbliss.wordpress.com/