By Dean Marriott
One of the things I love about being based in Switzerland is the ability to drive anywhere and everywhere at a moment's notice. Whether it's popping across the border into France for a bit of shopping or venturing into the other neighbouring countries of Germany, Italy, Austria and Liechtenstein as part of a more comprehensive trip, having a car here is truly liberating.
However, it's also easy to forget that every time you cross the border, you are entering into a new jurisdiction, not only for your car insurance, but also your car breakdown/recovery insurance. In addition, the rules regarding compulsory equipment that you need to have in your car can differ considerably from one country to another. If in any doubt about what you should have in your car in order to avoid a potential fine, you may find this document from the British Automobile Association very useful: Compulsory equipment for motorists in Europe
This summer, we spent a fabulous weekend in Evian to celebrate my birthday, only to realise after loading our suitcases into the car, that it had a flat tyre. Our first reaction was to see if the hotel could lend us a pump. Unfortunately, this wasn't possible. So then we started reading through our car insurance document. It looked as if we were covered for breakdowns in France, but we weren't 100% sure to what extent we were covered.
The insurance we have is an extension of our main car insurance, arranged with AXA Winterthur. On calling the Swiss helpdesk, we were told that their office in Paris would need to contact us and arrange the recovery as we were in France. Therefore, we had to wait a little while for a response. After chasing via the Swiss helpdesk a few times, we finally had a response from Paris. Unfortunately, they told us that there would be a delay as all the local garages were on their lunch break! Eventually, a recovery vehicle arrived and towed the car to the nearest garage in France that was open. There was a closer garage just over the border in Switzerland, but as we were in France, we had to use the French network. The tyre was replaced, nothing was paid and our holiday continued.
We finally discovered that we were covered in full for such an incident, and unlike our other Swiss insurances, there was no excess to pay.
It really is worth checking the extent of your breakdown cover if you are not fully aware of what you have, in particular your coverage outside of Switzerland. Having spoken to a number of people about our experience, I've heard numerous accounts of extremely stressful and expensive breakdown horror stories, which could have so easily been avoided.
If you don't have car breakdown/recovery insurance, start by checking with your current car insurer to see what they can offer you. This will usually be the cheapest and easiest route, especially if you don't speak French or German. You may also wish to compare this with the two main providers in Switzerland ACS and TCS . Both offer Swiss and European wide cover.
Author's bio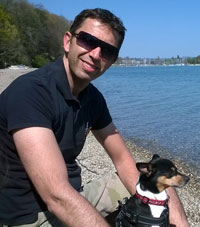 Dean Marriott was born in London and educated in the UK and Germany. He retired from a career in finance, aged 33, and subsequently retrained as an actor and teacher. From an early age, his passion for languages has underpinned both his professional and social lives. In his quest for leisure activities, Dean keeps one key thought in mind: if Shakespeare's words are true and 'All the world's a stage', we shouldn't have to look far in order to be entertained. We just have to make the time to appreciate it.
If you are searching for an element of entertainment in your leisure pursuits and have a desire to look beyond the obvious, then Dean will use his artistic eye to point you in the right direction.
Dean is currently the Director of the World Language Learning Centre at GEMS World Academy-Etoy, where he promotes the idea that language learning is about embodying a new language, not simply studying it.