By Dean Marriott
Living on the Swiss side of Lake Geneva, it's difficult to avoid the lure of Mont Blanc, or La Dame Blanche, the awe-inspiring supermodel of the Graian Alps, standing tall at 4810m above sea level.  After one year of exchanging glances from a distance, the time had come to get up close and personal, so my partner and I headed off to Chamonix in Haute Savoie.  
When I first worked in Geneva 8 years ago as an actor, contractual obligations prevented me from partaking in winter sports, so I grew to envy the locals who would disappear to Chamonix to indulge at the weekend.  They would go tired and exhausted, only to return fresh-faced and fully energised.  After my short break in Chamonix I can see why.
William Windham and Richard Pocock, two English Aristocrats, visited the region in 1741 and were the first tourists to publish an account of their discoveries in 1744. Chamonix has since developed into a charming town, easily navigable on foot and benefitting from stunning scenery all year round.  There are a huge number of restaurants and bars at your disposal, as well as numerous supermarkets and organic food stores, catering to all tastes.  A choice of accommodation from the basic to the luxurious is plentiful.  Our stay was in an independent wooden chalet, which was perfect for our needs and accepting of our dogs.
Autumn may seem a strange time to visit Chamonix, but for someone who hates queuing and crowds, it was idyllic. The cable cars and mountain trains may be less frequent than in the high season, but this was a small price to pay for the ease of passage and sheer pleasure of the experience from beginning to end.
Even though it is a well-known fact that Chamonix hosted the first Winter Olympic Games in 1924, you don't have to be an avid skier or sportsman to appreciate this environment.  However, for those of you who are, you may get inspiration from the James Bond film The World is Not Enough and be tempted to venture onto the so-called James Bond Trail – the piste where the ski scene was shot.  
During our stay we were blessed with perfect conditions.  The sky was blue and the sun was shining as we took the cable car up to the l'Aiguille du Midi.  A fresh sprinkling of snow had fallen just 2 days before our visit, which really was the icing on the cake and made the ascent even more spectacular.
You need to take two cable cars.  The first takes you to the Plan de l'Aiguille at 2,317m where there is also an outdoor bar with stunning views.  (If you have the time and enjoy hiking, this is a great place to stop on your way back down.  You can then walk from here to Montenvers where you can see the Mer de Glace before taking the train back down to Chamonix.  The hike takes around 2h30.) The second cable car from Plan de l'Aiguille takes you to an altitude of 3777m, where you come face-to-face with Mont Blanc.  It is literally breath-taking.  We were even graced with the presence of two black crows who performed for us.  The legend goes that the black crows are the souls of climbers lost to the mountains.
Depending on your itinerary, you can spend a good couple of hours here exploring the various terraces and taking in the incredible views.  There is a cafeteria and restaurant, so you can sit back and enjoy the new heights that you have reached. It is also possible to take a lift to the summit where you can brave entering the glass structure and have the feeling of being suspended in mid-air above the voids below.  
As our stay was limited, we simply took the time to become acquainted with our surroundings before bidding farewell to La Dame Blanche and taking the cable cars back down to Chamonix, where we were reunited with our dogs and the sun-drenched terrace of our chalet.

Here it's worth mentioning the Mont Blanc MultiPass tickets (www.compagniedumontblanc.com).  There is a day ticket for 56,50 Euros which allows you to take the cable car to l'Aiguille du Midi in the morning followed by second visit in the afternoon, such as the train to Montenvers-Mer de Glace.  The normal adult price for just the cable car to l'Aiguille de Midi is 55 Euros, so the Multipass represents a great saving.  
In the afternoon, we took advantage of our Multipass and made the 20-minute train journey to Montenvers to visit the Mer de Glace (Sea of Ice).  At this time of year the ice is at its lowest level, so a little imagination was needed to fully appreciate this.  However, the site is vast and the Glaciorium museum offers a useful insight into the impact of climate change on this area of natural beauty.  Also, be warned that the historical Grotte de Glace (Ice Cave), which takes you into the heart of the glacier, is closed from late September until around 20 December.  This may influence the timing of your visit and is something that I will definitely be returning to see another time.
Chamonix is a wonderful destination for a short break, especially for those of us in Geneva and Vaud, for whom it is just a short drive away.  So whether it is the attraction of La Dame Blanche that proves too much to resist, or the desire to follow in the skis of James Bond, I would certainly advise that Chamonix features on your to do list at some point during the next 12 months.
Author's bio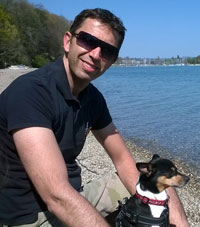 Dean Marriott was born in London and educated in the UK and Germany.  He retired from a career in finance, aged 33, and subsequently retrained as an actor and teacher.  From an early age, his passion for languages has underpinned both his professional and social lives.  In his quest for leisure activities, Dean keeps one key thought in mind: if Shakespeare's words are true and 'All the world's a stage', we shouldn't have to look far in order to be entertained.  We just have to make the time to appreciate it.  
If you are searching for an element of entertainment in your leisure pursuits and have a desire to look beyond the obvious, then Dean will use his artistic eye to point you in the right direction.  
Dean is currently the Director of the World Language Learning Centre at GEMS World Academy-Etoy, where he promotes the idea that language learning is about embodying a new language, not simply studying it.