Having successfully survived another half decade this month, I was the fortunate recipient of a surprise birthday present. I must admit that I'm not keen on surprises, but this time I played along. The journey was just over 3 hours by train with a number of changes: Lausanne to Bern, Bern to Interlaken, Interlaken to Lauterbrunnen, then a short connection by rail and cable car to Mürren, a car-free village in the Bernese Oberland.
We stayed in the Hotel Eiger (www.hoteleiger.com/en/), a family run hotel which has passed through 3 generations of the same family and offers a level of service fit for a king. We were travelling with our dogs, so to have a room with a sun-drenched private patio and snow-capped mountain view was an appreciated bonus. However, this was only part of the surprise – the mission was not yet accomplished.
The next short journey was to take us by cable car up the mountain to the Schilthorn, where at 2,970m (9,744ft), we would arrive at the famous Bond film location and revolving restaurant Piz Gloria (http://schilthorn.ch/Piz_Gloria). The restaurant was incomplete when selected for the film On Her Majesty's Secret Service, released in 1969 – coincidentally my year of birth. The Bond production team financed the completion of the building in exchange for exclusive use during the filming, as the hideout clinic for the villain, Blofeld.
Lunch was booked in the revolving restaurant with a table reserved next to the window. It was perfect. The restaurant takes just short of an hour to complete one revolution and accommodates around 400 diners but doesn't feel at all cramped and the views are spectacular. The waiters and kitchen staff did everything within their powers to make this a memorable birthday, and even baked a cake to our own specifications.
On the lower floor of Piz Gloria there is a James Bond exhibition with memorabilia and film clips galore, which is a must for any Bond fan, and they were clearly here in abundance. However, you don't have to be a Bond fan to appreciate Piz Gloria and the incredible panoramic view from the top of the Schilthorn over the Bernese Alps taking in some 40 glaciers and 200 mountain summits including the Titlis, Jungfrau, Mönch and Eiger.
It was strange to think that just over a year ago I had been discussing James Bond with my Terminale students in Paris under the 'notion' of Myths and Heroes for the French Bac, and now I was part of the Bond experience but rather than being in the UK, I was in Switzerland. It is also curious to think that James Bond, the quintessential Englishman, is in fact half Swiss. Indeed, his mother, Monique Delacroix, was from the Canton of Vaud, where I now live. Bond as a character is a dream role for many British actors, myself included: a multi-lingual hero with a very British sense of humour and, without a doubt, king of the double entendres.
The international appeal of this destination was evident. Tourists from the US and Japan were there in force, but the sprinkling of other nationalities was also apparent, albeit more discreet. I can see why this year-round attraction is a must for anyone visiting Switzerland or currently living here as an expat. It is a truly spectacular experience, which culminates with the satisfying feeling of mission accomplished.
As author and director Paul Kyriazi puts it in 'How to Live the James Bond Lifestyle': "You're on the planet too. Why should James Bond have all the action, fun, money, and resort hotel living?"
Author's bio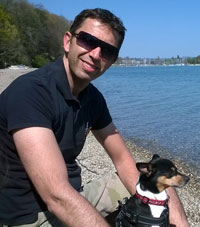 Dean Marriott was born in London and educated in the UK and Germany. He retired from a career in finance, aged 33, and subsequently retrained as an actor and teacher. From an early age, his passion for languages has underpinned both his professional and social lives. In his quest for leisure activities, Dean keeps one key thought in mind: if Shakespeare's words are true and 'All the world's a stage', we shouldn't have to look far in order to be entertained. We just have to make the time to appreciate it.
If you are searching for an element of entertainment in your leisure pursuits and have a desire to look beyond the obvious, then Dean will use his artistic eye to point you in the right direction.
Dean is currently the Director of the World Language Learning Centre at GEMS World Academy-Etoy, where he promotes the idea that language learning is about embodying a new language, not simply studying it.