Read the full blog entry from Rosa's Yummy Yums
After having spent one week away recently, cooking uncomplicated meals, not baking at all and hardly being challenged culinary-wise, I was glad to rebound with my kitchen and put my brand new oven to work again. In order to celebrate our coming home, I prepared a semi guilt-free tart* with the last plums (one of my favorite dessert fruits) of the season and my trademark low-fat pastry.
This home classic and personal invention is easy to put together, but it is nonetheless almighty exquisite and deliciously homey. A heavenly treat which is best savored with a glass of quality Porto or a cup of tea and while nostalgically remembering past travel adventures.
* It contains about 95g butter less than the ones confectioned with shortcrust dough.
Plum Tart With Scone Pastry & Mascarpone
Recipe by Rosa Mayland, November 2012.
Serves 4-6.
Ingredients For The "Scone Pastry":
338g Plain flour
2 Tsp Baking powder
1 Tsp Fine sea salt
75g Unsalted butter
38g Castor sugar
Milk, enough to form a firm dough
Ingredients For The "Filling":
250g Mascarpone, softened
120g Light brown sugar
740g Plums, halved and stoned
Cinnamon, to taste
Method For The "Scone Pastry":
1. Heat the oven to 190°C (375°F) and grease a 28cm (11 inches) tart pan.
2. Mix together the flour, baking powder and salt, then rub in the butter.
3. Stir in the sugar.
4. Add the milk and incorporate well (with the help of a knife) by cutting and turning the dough until it forms a clean ball.
5. Roll out the pastry and line the base of your tart pan.
6. Trim the edges and prick the base of the tart with a fork.

Method For The "Filling":
7. Spread the mascarpone over the base of the tart and sprinkle 50g light brown sugar over the cheese.
8. Place the plums, cut side up, in neat concentric circles in the tart shell. Cowd the fruits, but do not overlap.
9. Sprinkle the cinnamon and leftover sugar over the fruits.
10. Bake for about 40 to 50 minutes, until the fruits are soft and the crust is golden brown.
11. Cool on a wire rack.
12. Serve.
Remarks:
You can replace half of the plain flour by whole wheat flour and the castor sugar by light brown sugar.
For this recipe I used quetsch plums (the best plums, in my opinion), but any other type of plum (fresh or frozen) or fruit (pluots, mirabelles, apples, pears, peaches, etc...) will do.
Serving suggestions:
Serve for tea time or dessert, with a glass of Porto or a cup of tea.
Drizzle a little runny honey over the top of the tart if you find that it is not sweet enough for your taste.
Author's Bio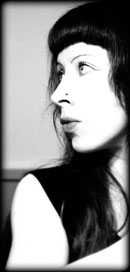 Rosa Mayland, the creator of Rosa's Yummy Yums, lives in a small Geneva countryside village situated in the French speaking part of Switzerland - a few meters away from the French border. She's an Anglo-Swiss food enthusiast who loves photography, loud rock or electronic music, walks in the countryside, meeting interesting people, cats, books and independent films. When she's not writing for her blog, you'll also find her over at The Rambling Epicure, a daily international food chronicle and online newspaper to which she contributes as a freelance writer.

As you can imagine, she is very passionate about cooking/baking and can spend hours surfing the net for inspiration, reading blogs, creating dishes, testing new recipes or going through cookbooks and magazines. She is crazy about flavorful and soul-uplifting grubs, spices and yummy textures, therefore she's particularly fond of Asian, Caribbean, Mediterranean, South American, Middle Eastern delights as well as regional and traditional specialities!
Rosa has kindly agreed to let us post some of the recipes from her blog on knowitall.ch. Each month we will feature a new dish from her site, but due to space limitations we will only publish the recipes listed in each blog entry. However, you MUST click on the link provided with each recipe to read for yourself the inspiration behind each of the dishes prepared by Rosa and to see the wonderful collection of photos accompanying each dish. Many of these photos have been taken at locations in and around Geneva - see if you can work out where they have been taken!