Read the full blog entry from Rosa's Yummy Yums
A few days ago, I had some quark (fresh cheese which can be found in Germany, Austria, Switzerland, Russia, etc...) in my fridge and really wanted to sublime it by transforming it into a fresh, tasty, healthy and summery sauce which could be poured cold over boiled potatoes, accompany hot or cold staples and be used in multiple ways (dip, spread and dressing), so that's how I concocted a succulent and versatile "Quark And Zucchini Sauce". Perfect for this transitional season...
Multi-Purpose Quark And Zucchini Sauce
Recipe by Rosa Mayland, September 2012.
Makes about 2 cups.
Ingredients For The "Sauce":
250g Quark (semi-fat preferred)
1 Small (150g) Raw zucchini, grated
2 Hard-boiled eggs, chopped
1 Clove garlic, finely chopped
1 Shallot, finely chopped
2 Tbs Pumpkin seeds, toasted and finely chopped
2 Tsps Basil pesto (homemade or bought)
1 Tsp Lemon zest (organic)
1 Pinch Ground allspice
Red Tabasco, to taste
Freshly ground black pepper, to taste
Fine sea salt, to taste
Method For The "Sauce":
1. Combine all ingredients together.
2. Serve.
Remarks:
You can replace the quark by any other fresh cheese (goat, sheep or cow) of your choice, thick Greek yogurt, 2 parts ricotta and 1 part sour cream, mascarpone or cream cheese (please note that both the mascarpone and cream cheese are much richer than semi-fat quark).
Serving suggestions:
Serve as dip with raw vegetable sticks (carrot, cucumber, zucchini, celery, bell pepper, jicama, etc...) or slices (button mushrooms, cauliflower, etc...).
Serve as spread with bread and crackers or in sandwiches.
Serve as sauce with fish (truit, salmon, cod, etc...), grilled meat, boiled potatoes, oven fries, steamed vegetables or pasta.
Serve as dressing with potato, rice, pasta or grilled vegetable salad.
Photos courtesy of Rosa Mayland Photography.
Author's Bio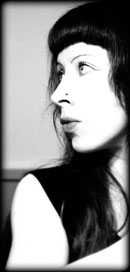 Rosa Mayland, the creator of Rosa's Yummy Yums, lives in a small Geneva countryside village situated in the French speaking part of Switzerland - a few meters away from the French border. She's an Anglo-Swiss food enthusiast who loves photography, loud rock or electronic music, walks in the countryside, meeting interesting people, cats, books and independent films. When she's not writing for her blog, you'll also find her over at The Rambling Epicure, a daily international food chronicle and online newspaper to which she contributes as a freelance writer.

As you can imagine, she is very passionate about cooking/baking and can spend hours surfing the net for inspiration, reading blogs, creating dishes, testing new recipes or going through cookbooks and magazines. She is crazy about flavorful and soul-uplifting grubs, spices and yummy textures, therefore she's particularly fond of Asian, Caribbean, Mediterranean, South American, Middle Eastern delights as well as regional and traditional specialities!
Rosa has kindly agreed to let us post some of the recipes from her blog on knowitall.ch. Each month we will feature a new dish from her site, but due to space limitations we will only publish the recipes listed in each blog entry. However, you MUST click on the link provided with each recipe to read for yourself the inspiration behind each of the dishes prepared by Rosa and to see the wonderful collection of photos accompanying each dish. Many of these photos have been taken at locations in and around Geneva - see if you can work out where they have been taken!