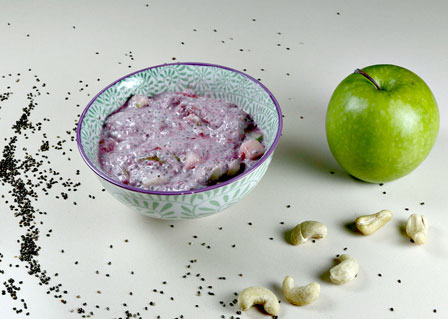 By Hiba Giacoletto, Healthwise
Bircher müesli is the quintessential Swiss breakfast. It is traditionally made with oats soaked in milk, yoghurt, fruit, nuts and seeds. It was invented by a Swiss doctor called Maximilian Bircher-Benner as a way of helping the patients at his sanatorium in Zürich heal through the power of soaked cereal, fruits, and raw nuts and seeds. This might sound obvious to our modern ears, but was revolutionary at the end of the 19th century when meat, potatoes and white bread were the norm.
Here is a quick and easy recipe for an easier to digest version of Bircher muesli for those of us who don't like milk or oats. An easy homemade cashew milk replaces cow's milk and chia seeds take the place of oats (trust me, you won't miss them). This is then mixed with fruit of your choice and lemon juice to add a tanginess almost like yoghurt. No added sugar needed.
It takes only minutes to prepare a quantity for the week so all your breakfast needs are covered with this versatile and delicious recipe.
You can now find chia seeds in any organic store in Geneva or order them online here. You can use code WIV403 to get up to $10 off your first order.
INGREDIENTS (for about 8 servings)
1 cup/175 grams raw, unsalted cashews - preferably soaked for 3-4 hours to make them more digestible and easier to blend. Rinse well before using.


FRUIT OF YOUR CHOICE such as:



250 grams raspberries (I used frozen without defrosting them first)
1 medium apple (sour apples like Granny Smiths give more taste)
1 medium pear
1 medium banana
Juice of 1 lemon



3.5 cups/950 ml water


3/4 cup or 135 grams chia seeds


Spice of your choice - a little vanilla or cinnamon powder work well. I usually don't add spices during preparation and add some to my bowl instead so I can change the taste a little every day.

METHOD
Chop fruit into the size you like and place in a big container that has a lid. Place the frozen raspberries in there as well. Pour the lemon juice over the fruit and stir. The lemon juice is very important as it helps keep the fruit fresh and lends a sour, almost yoghurt-like taste.
Drain and rinse soaked cashew and put them in a blender with the water. You have just made cashew milk! If you want a sweeter taste, you can add a little maple syrup, honey or dates to this mixture although I find it doesn't need additional sweetness thanks to the fruit. If you are adding spices you can also add them in at this point.
Once you have made your cashew milk, add the chia seeds. Pulse very briefly on the lowest setting of your blender – just enough to mix the chia seeds without actually blending them.
Pour the milky mixture over the fruits and stir. If you want an even closer experience to the original Bircher, you could add quinoa or buckwheat flakes and stir again. I don't personally find this is necessary and prefer the taste and texture without.
Cover the container and place in the fridge for at least 2 hours to allow the chia seeds to create a jelly-like texture.
You can keep your Fruity Chia Bowl in the fridge for about 4-5 days, so you have breakfast ready for almost the whole week! For the best taste, take your Fruity Chia out of the fridge at least 10 minutes before eating.
Author's bio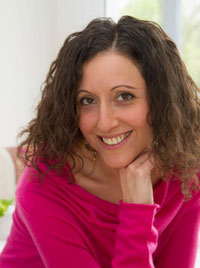 Hiba Giacoletto is a Certified Health Coach from the Institute for Integrative Nutrition (IIN) with a Masters Degree in Psychology
Hiba helps people lose weight, feel more energetic or take control of their eating without diets or deprivation. She believes that no one way of eating or living works for everyone and that it is about experimenting to find what truly works for you. She uses a unique blend of NUTRITION + PSYCHOLOGY + COACHING to help people start trusting their body's wisdom to make food and lifestyle choices that enable them to look and feel their best. She is convinced that regardless of what you might have tried in the past, she can help you get unstuck, overcome self-sabotage behavior and find your mojo!
You can book a FREE 45 minute Health Chat via her website, www.healthwise.ch to find out whether Health Coaching is right for you.
www.healthwise.ch
www.facebook.com/healthwise.ch
www.twitter.com/HibaGiacoletto
www.pinterest.com/healthwisech/