If you ask any American what kind of pie they serve at Thanksgiving or Christmas, it will likely be one of two types: pumpkin or pecan. As an American raised in Geneva, I remember that these two types of pie were a rare sighting in our Eaux-Vives home.
Back in the 1970s, no shops carried canned pumpkin nor pecans. In fact, there is an additional ingredient for pecan pie that is still nearly impossible to find... Karo Syrup. I have not found an equivalent in Europe. Possibly Golden Syrup would work but I have never tried it. Karo Syrup is found online through various international online shopping sites in Switzerland so all is not lost!
Before pecans and canned pumpkin were sold here, most traveling parents were commissioned to load their suitcases with such things as Oreo cookies, Reese's peanut butter cups, Twizzlers, canned pumpkin, Karo syrup, and pecans! There was almost a underground black market with these items! Nowadays most everything can be bought online so the need, and the fact that there is limited luggage weight per person (something we didn't think about before), has evolved.
So my suggestion if you want a really yummy dessert for any occasion, then try out my recipe below. I have shown you how to make it on my Follow Lisa YouTube channel as well (click on image above).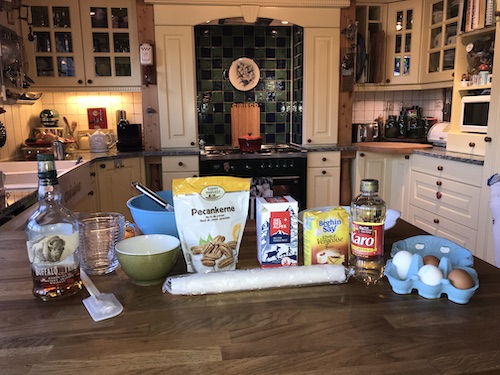 Pecan Pie Recipe with Whiskey
Serves 12
— pie crust (puff or shortcrust)
— 4 eggs
— 1 cup brown sugar
— ½ teaspoon salt
— ½ teaspoon vanilla
— ¾ cup of Karo Syrup
— ¼ cup melted butter
— ¼ cup of whiskey (optional)
— ¼ cup chocolate chips (optional)
— 2 cups (more or less) pecans
Preheat oven to 200ºC (400ºF).
Line pie tin with puff pastry (or shortcrust pastry).
Lightly beat 4 eggs.
Add brown sugar, salt, vanilla, butter, Karo Syrup, and whiskey (optional). Mix well.
Optional: put a thin layer of chocolate chips on pastry.
Reserve 12 whole pecans for decorating and then chop the remainder and place on pastry.
Pour the wet mixture over pecans and place 12 whole pecans like numbers on a clock face.
Bake for 10 minutes at 200ºC (400ºF) and then turn oven down to 175ºC (325ºF) and bake for a further 25 minutes. If you notice the middle is too wobbly, then cook for a few more minutes.
Remove from oven and let cool to room temperature. Can be served with whipped cream.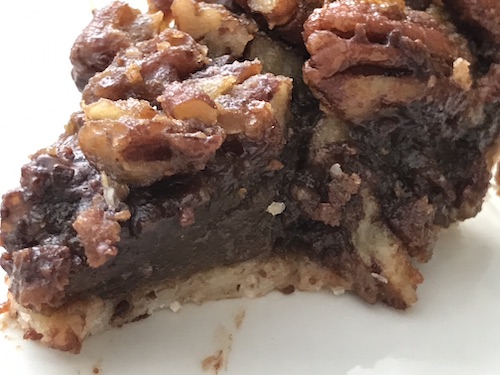 #followlisanow #pecanpierecipe #butterypecanpie