By Dr Michelle Wright, Director of HealthFirst.ch
You never know when your First Aid or Basic Life support skills could be called upon. Every week I hear stories from friends, colleagues, and patients about how they have had to react in a medical emergency to help someone in need.
Recently I had the privilege of working with the Swiss Resuscitation Council to translate and record the voiceover for their BLS Quick video, published on their website: resuscitation.ch
BLS stands for Basic Life Support and BLS Quick training is aimed at the general public to raise awareness about:
• When someone might need Basic Life Support.
• How to alert the appropriate emergency services.
• And how to begin providing CPR and using a defibrillator, under the guidance of the telephone operator on the other end of the line.
Collapse
The video is well worth a watch. It runs through a scenario where a woman is walking in the forest and comes across a man who has collapsed whilst running. She shouts for help, hoping that someone nearby hears her. She then checks to see if the man is responsive and breathing. Upon finding that he isn't, she calls 144 for an ambulance and speaks with the telephone operator (the role that I played).
Once advised about the location, the operator immediately deploys an ambulance. Then, the operator then stays with the woman and with her phone on speaker mode, guides her through resuscitation.
Chest compressions
First, she is instructed to roll the man onto his back and expose his chest. Whilst kneeling beside him, she is asked to place both hands in the centre of his chest, to keep her arms outstretched and to push hard and fast down onto his sternum, giving chest compressions, at a rate of 100 per minute without stopping.
After a few minutes, a young man passes by on his bike and stops to see if he can help. The telephone operator relays the information that there is a defibrillator available at the local post office and he quickly cycles off to retrieve it whilst the lady continues CPR.
Defibrillator
When he returns, the duo are guided through how to use the defibrillator by the operator and are then able to follow the instructions as the defibrillator itself speaks to them and tells them what to do. After a short while, the ambulance arrives, and the crew take over.
During the film, we also hear from someone who has had to give Basic Life Support in a real-life situation. She talks about how relieved she was having the support and guidance from the 144 operator.
We also hear from a paramedic who explains the importance of acting fast to save a life. For every minute without resuscitation, a person's chance of survival drops by 10%. She also discusses the benefits of taking a Swiss Resuscitation Council Basic Life Support course to get hands on practice and give you confidence so that your actions become routine.
You can watch the video here: https://www.youtube.com/watch?v=a_hXA94xLgI
It will take 6 or 7 minutes of your time but could make all the difference when it comes to saving a life.
And you can find CPR and Basic Life Support courses in English across Switzerland here: https://www.healthfirst.ch/first-aid-courses-switzerland/saving-lives-cpr-and-emergency-first-aid/
HealthFirst organises courses on a regular basis. The next one is being held in Geneva on Saturday, 5 February 2022, at this link.
Author's bio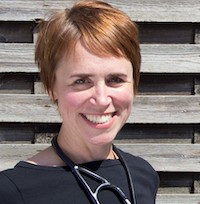 Dr Michelle Wright is a British-trained General Practitioner and Director of HealthFirst, providing dynamic First Aid Training and Health Education in English throughout Switzerland (www.healthfirst.ch). She also has a regular radio show about health on World Radio Switzerland (www.worldradio.ch/healthmatters).