(c) copyright HealthFirst 2015
By Dr Penny Fraser, HealthFirst
Summer is here! The school bags will soon be slung into a cupboard and the suitcases brought out to pack for holidays and family visits. Whether you are travelling by car, train or plane, the one thing that should always be taken is your First Aid Kit.
How to make an arm sling
One of the essential items that you should find in your kit is an arm-sling, used for injured collarbones, shoulders, elbows, arms, wrists and hands. Do you know why you would use one of these?

Four reasons for putting an arm sling on an injured person:
It's a pain-killer. Every time damaged skin, muscle, tendons, bones and joints are moved, they send strong pain messages along the nerves to the brain. Ouch! If these damaged tissues are kept still and supported in an arm sling then the person will be in less pain.
It prevents secondary injury. If the damaged tissues are kept still in the sling, then this reduces the chance of bone fragments, torn veins and ligaments wobbling about and causing worse bleeding or swelling etc.
It accelerates recovery. It is scientifically proven that if, after an injury, people have their pain controlled and psychological stress reduced, they heal quicker. Excellent First Aid includes reassuring the person with words, gestures and eye-contact whilst putting on an arm sling.
It gives a clear signal to others. When another person sees the arm sling, they know that the wearer is injured and needs to be cared for. A paramedic, nurse or doctor will also be able to direct their questions and treatment quickly to the injured arm, indicated by the presence of the arm sling.
QUIZ
Can you put these pictures in the right order? (answer at the bottom of this blog)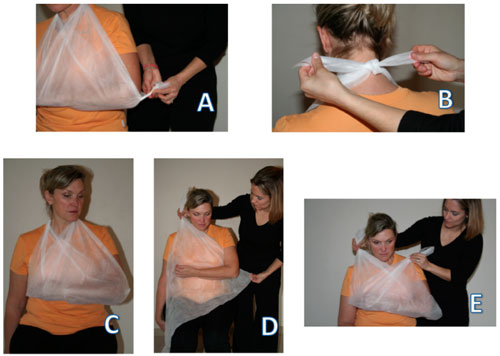 What else should you have in your travel First Aid Kit?
Remember to:
Regularly check the contents of your First Aid Kit.
Replace any used or expired items.
Keep the kit out of sight and reach of young children.
Ensure that everyone that you are travelling with knows where the kit is kept and how to use it.
From all of the HealthFirst Team, we wish you a happy and healthy summer.

If you don't already have your First Aid Kit ready, order one here and we'll rush it to you:
http://www.healthfirst.ch/first-aid-equipment/
Our First Aid Courses for the Autumn are already open for booking as well.

ANSWER: D – E – B – A – C
Author's bio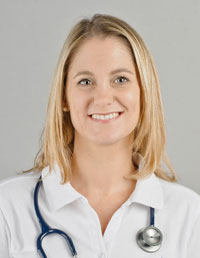 Dr Penny Fraser MB BS BSc(HONS) MRCS(ENG)
Dr Penny is a British-trained Emergency Medicine doctor, who lives in Geneva. She is also the mother of two busy little skiers aged 7 and 9. Along with Dr Michelle Wright and her other colleagues at HealthFirst, she has a passion for delivering health education and First Aid training to the English-speaking community in Switzerland.
HealthFirst provides a range of practical, interactive First Aid courses including a unique Mountain First Aid Course and a First Aid course, obligatory for the Swiss Driver's Licence, and suitable for anyone from the age of 14.