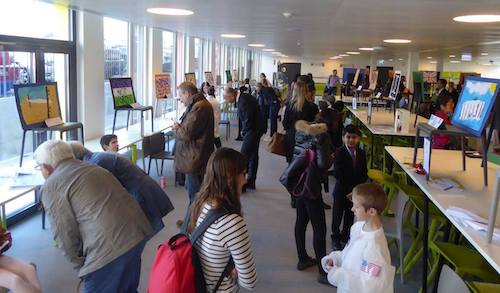 By Mark O'Brien, La Côte International School
The International Primary Curriculum, commonly known as IPC, is a comprehensive, thematic and creative curriculum with specific learning goals for every subject. What makes the IPC stand out from other curricula is the strong focus on developing students as global citizens and becoming internationally-minded. International learning goals are unique to the curriculum and help students to develop an increasingly sophisticated national, international and intercultural perspective. IPC is now taught to over 1,000 students across 90 countries around the world, with many opportunities for students and teachers to share their experiences and learning.
The IPC has been designed to ensure rigorous learning, whilst providing both students and teachers learning opportunities that are exciting, meaningful and active. Through the IPC, the following subjects are covered:
- Geography
- History
- Science
- Art
- Technology
- Computing
- Physical Education
- Music
- Society
- International Learning
The curriculum is split into 3 Mileposts:
Milepost 1 for students age 5-7.
Milepost 2 for students age 7-9.
Milepost 3 for students age 9-11. Units of work cover a range of themes, age-appropriate and relevant to each age range. In the younger years, units are based on topics that enable students to draw on their own experiences such as 'The Toy Maker' and 'A day in the Life'. Older students study more complex topics which focus on developing their investigative and research skills, such as 'Mission to Mars', 'Chocolate' and 'Champions for Change'. Each thematic IPC unit includes an international aspect, to help students to develop a sense of 'international mindedness'.
Within the IPC, learning is developed in three forms: knowledge, skills and understanding. Each unit of work has a clear set of learning goals with particular emphasis on developing students' skills. Assessment for learning plays a crucial role in supporting and challenging students. There are clear rubrics for teachers to identify students' strengths and targets, as well as the opportunity for children to be part of the assessment process with self-assessment rubrics written in child-friendly text.
As well as academic rigour, the curriculum is underpinned by the personal goals; these are individual qualities and dispositions, which are essential for children to develop in the 21st century. There are 8 IPC Personal Goals - Enquiry, Resilience, Morality, Communication, Thoughtfulness, Cooperation, Respect and Adaptability. Opportunities to experience and practise these qualities are built into the learning tasks within each unit of work.
Importantly, the IPC also helps engage parents in their children's learning, and highlights the relevance of learning in the classroom and at home. At LCIS, parents are invited to 'Exit Point' sessions which are towards the end of a unit's learning process and provide an opportunity for parents to engage in and celebrate the learning that the students have achieved.
In Switzerland, the IPC International Primary Curriculum has been adopted by a number of international schools including Collège du Leman, Institut Le Rosey, JFK International School, La Côte International School, La Garenne International School, and Obersee Bilingual School.
Year 4 IPC - The Digestive System from La Côte International School on Vimeo.
Principal at La Côte International School, says, "We integrate the IPC curriculum through a variety of subjects. One of our goals, with Early Years and Primary students, is to develop an appreciation for the French language and an understanding of the Swiss francophone culture. Students at our school have a choice of following the IPC in either English or French."
LCIS' Primary IPC Lead Mr Mark O'Brien has conducted some exceptional IPC units with Year 4 students, who produced this fantastic video on their learning and findings about the Digestive System!
"IPC offers students the opportunity to truly develop their knowledge, skills and understanding through exciting and meaningful units of work" says Mark O'Brien "I love that IPC places such emphasise on developing the student's personal traits and equips them with transferable skills they can use in any situation, both in an educational setting and in the community around them."
For example, one of the most popular IPC topic work is "They made a difference", an inspiring, fun and hands-on way to learn about history, art, literature and the people that shaped our world. This particular IPC Topic culminates in our "Night at the Museum" event for parents and families where each student portrays an historical figure, sports champion, inventor, philosopher or celebrity that changed the world. The latest LCIS Museum welcomed over 60 famous personalities including Hippocrates, Fibonacci, Mozart, George Washington, Vuk Karadzic, Emmeline Pankhurst, Nicola Tesla, Marie Curie, Steve Jobs, Nadine Labaki, Malala, Lee Kuan Yew, Simone Veil, Rosa Parks, Yuri Gagarin.
Another exceptional IPC Topic work is the "Museum of the Senses", you can find the link to the IPC Exit PointFacebook photos here.
Author's bio
Originally from the UK, Mark O'Brien holds an Honours Degree in Primary Education from Aberdeen University. He has taught across both Key Stage 1 and 2 in Scotland, Qatar and the United Arab Emirates.
Mark joined La Côte International Schoolin 2018 as Year 4 Teacher and has now been appointed Lower Key Stage 2 Co-ordinator and IPC Lead for Primary. He is passionate about teaching, supporting children in their academic objectives, and ensuring they flourish as happy individuals; developing confidence, communication and empathy towards others.
Mark always endeavours to create a positive ethos within his class; providing stimulating and innovative learning experiences to support and challenge children in achieving their full potential.
During his teaching career, Mark has also taken on various additional roles such as Maths subject leader, Head of Upper School and, most recently, Head of Infant Department and Whole School Assessment Coordinator. Outside of school, Mark enjoys spending plenty of time with his family and two young children.