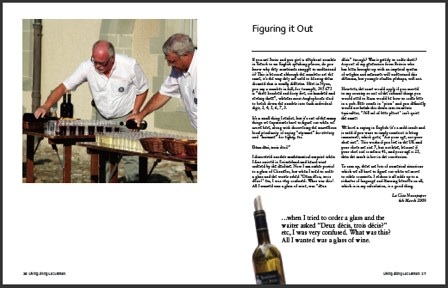 There is a new book out in English called "Living along Lac Léman" by Catherine Nelson-Pollard, author and founder of the site www.livinginnyon.com.
The book is a light-hearted look at life along the shores of lake Geneva. It is a selection of columns which have been published for the last two years in English every Friday in La Côte newspaper - it is about the people, places and events in Vaud as seen through the eyes of a British expatriate.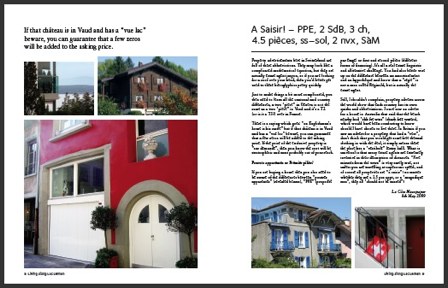 The author makes observations on unusual Swiss customs and on the peculiarities to be found in both the French and English languages. She also comments on other subjects that have caught her eye such as the jargon that estate agents use when advertising houses for sale, the difficulties of making a fondue, or trying to say a telephone number in French.
With other articles on both the Paléo and Caribana music festivals, the Désalpe and more, and packed with photos that capture the color and essence of the Léman region, the book makes a perfect gift for someone who has just moved to the area. It will also delight those who have lived here for a while, whether expat or Swiss, in recognizing the quirky side of Swiss life while acknowledging the beauty of the Léman area.
LIVING ALONG LAC LEMAN
Catherine Nelson Pollard
Fr. 29.-/copy
Available to order through www.livinginnyon.com. Free delivery in the Nyon, Coppet, Rolle and Prangins area.
Also on sale at the Nyon tourist office Monday to Friday 8h30-12h30 and13h30-17h30.
Catherine will also be selling her book at the Saturday market in Nyon from 8h-14h on November 19th and December 3rd and 17th, 2011, so make sure to stop by and have her sign your copy.
SPECIAL BOOK SIGNING
The author will be signing copies of the book at Nyon tourist office on Friday November 4th from 16h-18h. An ideal opportunity to pick up a copy and find out about both tourism events and winter activities happening in the Nyon and St Cergue regions.