Obviously, if you saw the above sculpture on top of a pole in downtown Geneva, you probably wouldn't have even stopped to admire it. It just looks like a bunch of distorted oversized wires. But suddenly, as you walk this way or that, the juxtaposition of these wires start to play with each other. They start to mean something. As you try not to trip over the curb, you don't want to take your eyes off it, for fear of missing a millisecond of the new shape emerging! Amazingly, on one extreme you can make out the word OUI in French. On the other side of the square, you make out the word NON. It is quite amazing and brings to mind other works that the artist has worked on in the past.

The artist, Markus Raetz, entitled this work simply OUI/NON. It was finished in 2000 and erected in 2001 on the Rue du Rhône (at Place de la Fusterie) in downtown Geneva. Markus Raetz works on the real and unreal of the negative/positive and the perception and the deformation on shapes in a mirror or facing each other. He invites the viewer to interact, because many works by the artist reveal themselves only by the movement of the viewer in front of the sculpture. Markus Raetz was born in the canton of Bern in 1941. He is one of the most renowned contemporary Swiss artists.
OUI/NON was a donation from the Fondation Hélène et Victor Barbour to the City of Geneva. La Fondation Hélène et Victor Barbour, a registered private charity foundation based in Geneva, was founded in 1977 by Mr. Victor Barbour, in his own name and that of his wife, Helen. Accordance with the wishes of its founders, La Fondation Hélène et Victor Barbour focuses its efforts primarily on the patronage of the Canton of Geneva.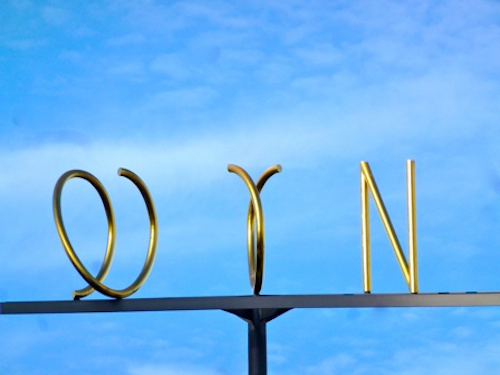 The Foundation provides various forms of financial support (donations, grants, scholarships, awards, etc..) to persons or institutions in five specific areas:
social, specifically helps precarious individual or family situations,
training young artisans and students,
culture,
churches,
wildlife, especially horses and dogs.
To read more about the foundation please go to www.fondationbarbour.ch
© all photos Lisa Cirieco-Ohlman