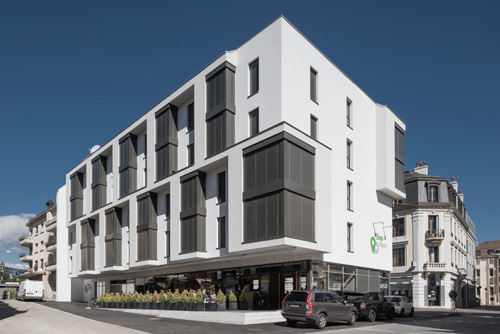 Enter our competition and win a 2-night break for 2 people in a Base Suite (see conditions below)!
A new concept in apartment hotels has just arrived in Nyon. Located just 50 meters from Nyon station, Base Nyon opened its doors to the public on 1 October 2015, and features a modern, contemporary design with 52 top-quality suites, which can be booked for any length of stay ranging from one night to several months.
The suites are targeted at business people, who expect the high standards of a premium hotel when visiting local companies, as well as new employees looking for the flexibility of temporary accommodation, and tourists looking for a convenient short stay in a buzzing holiday town like Nyon.
With many large multinational companies now setting up in this region, Nyon is currently experiencing an economic boom, which is expected to place considerable pressure on the local market for accommodation over the next five years, including both long-term rental apartments and short-stay hotel rooms. So the arrival of a prestigious apartment hotel, which meets the demands of many different visitors to the region, has come at the perfect time.
When knowitall.ch met the co-founders of Base Nyon, the motivation and guiding principles behind the development of this new apartment hotel became immediately apparent! Base Nyon combines the Nordic pragmatism associated with Norwood SA, a Swiss construction company now under the direction of Frédéric Mydske, with a high, sense of anglo-saxon service, reinforced by its English co-founder, James Fry.
As soon as you step into the reception of the Base Nyon building, you will immediately experience the comfort and freedom of a rental apartment, combined with the services of a 4 star hotel. With at least two staff on hand to welcome you with a coffee, you are invited to login your booking details at one of the touch-screen terminals, configured to produce your room card in a matter of seconds. Check out is even easier – you can do this using your smart phone or via the internet TV located in your room. So there are no lengthy queues when you arrive or when you come to leave.
Three types of suites are offered at the hotel: standard suites measuring 28m2, larger suites measuring 37m2 and a small number of penthouse suites (with their own terrace) measuring 43m2. A high quality Hypnos king size bed has been included in all rooms, along with a sofa bed that provides guests with the flexibility of welcoming friends and relatives to stay. An internet TV screen, which can be pulled out and swiveled in all directions ensures that guests are no longer confined to watching programs from the bed. You can watch whilst working at the coffee table, eating dinner at the dining table or, in some rooms, whilst taking a shower!
All suites come with a fully equipped kitchen, which includes washing machine, oven, induction hob, microwave, fridge and Nespresso coffee machine. However, it is the attention to detail that sets this hotel apart from many others. For example, when James demonstrated the Joseph Joseph range of kitchen utensils to us, it was clear how even the smallest aspect of living away from home had not escaped his attention. Indeed he is so confident in Base Nyon's choice of partners, that guests will have the option of purchasing many of the kitchen and bathroom accessories featured throughout the hotel at discounted prices!
When it comes to facilities, Frédéric and James have used their own experiences of staying in hotels to make sure that it is the client, rather than the hotel, who comes first. A 50m2 gym in the basement will be much appreciated by many guests, given that very few hotels in this region offer this kind of service. A buanderie is also available for those who wish to take care of their own laundry rather than pay for washing to be cleaned – although a laundry service is also offered to guests who want it. A small terraced bar on the roof, with spectacular views over Nyon and Lake Geneva, is open solely to hotel guests and their friends. And, keen to encourage their guests to explore Nyon and its surrounds, James and Frédéric have made a number of Base Bikes available for hire, free for the first hour and then Fr. 5.- per hour for longer periods. Many of these bikes have already done lots of exploring around the town – check out the main picture on the wall in your suite and see if you can recognize where it was taken (with the Base Bike as the focal point) in Nyon!
The Base Nyon logo is green for a reason, as the hotel adopts a wide range of environmentally-sound measures, that are eco-friendly and minimize waste. For example, Base Nyon offers regularly-returning guests the option of using their own personal Base Box, in which they can place food, toiletries and other items they don't wish to pack for the hotel each time they travel. So there is no need to throw away half-used packets of biscuits or pasta for example. Likewise, when it comes to breakfast, guests only pay for what they want. Left outside your room the night before, the Base Breakfast Bag allows guests to order from a wide range of breakfast items, which are freshly prepared by the local boulangerie, Pâtachou, and delivered to your room the next morning.
The icing on the cake for many guests will be Base Nyon's partnership with Luigia, which has earned a reputation as one of the best Italian restaurants in Geneva and which has now opened a new restaurant on the ground floor of the hotel building. With their own hotel access to the restaurant, guests have the option of dining at Luigia's every day of the week at lunch time and in the evening.
So confident are Frédéric and James about the future success of the Base concept, that the two entrepreneurs have just signed a contract to begin work on the construction of a new apartment hotel in Vevey. With work scheduled to start on the hotel in Spring 2016, Base Vevey is expected to open the following year. Discussions are also underway for a new Base Lausanne hotel… so watch this space for more information!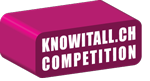 To encourage local residents to think about booking the hotel for visiting family and friends, Frédéric and James are offering knowitall.ch readers the opportunity to win a 2-night break for 2 people in a Base Suite at the weekend (Friday, Saturday or Sunday), to be used at the hotel before the end of 2015. Just fill in this form and let us know how many suites there are at Base Nyon. Only one entry per person and per email is allowed. The competition closes at midnight on Wednesday, 4 November, 2015. The names of all those submitting correct answers will be placed into the digital hat and the winner's name drawn at random on Thursday, 5 November, 2015. The winner will be notified by email and his/her name will be added to this article after the competition closes.
Base Nyon
Rue Jules Gachet 2
1260 Nyon
022 361 36 36
This email address is being protected from spambots. You need JavaScript enabled to view it.
www.basenyon.com
Suites can be booked via the Base Nyon website above.
All photos © Base, except the last photo, which is © Luigia
Congratulations to Sharon Willis who won a 2-night break for 2 people at Base Nyon through our competition!