How many times have you heard people talking about how wonderful it is that we live in such an international area as the Lake Geneva region? People are coming and going all the time - many plan to stay for just a few months, others inevitably stay longer, as they fall in love with a region that has so much to offer – not just to tourists, but visiting business professionals, and expats who have decided to make Switzerland their home.
Once the decision has been made to stay, be it for one week, several months, or even years, then it's time to start looking for accommodation. A quick browse on the internet or through the local papers can be extremely helpful in identifying property to rent – however most of the properties advertised usually require long-term rental contracts or are not furnished. Even if you have decided to stay for a few years, many families, in particular, prefer to test the water first, by staying in a hotel until they have got the feel of the area. As time passes and suitable properties fail to materialize, costs can soon mount up.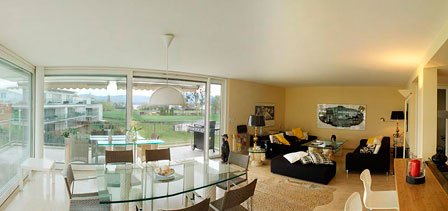 Recognizing a gap in the market for short-term, furnished rental properties, local entrepreneur, Brigitte Burgisser, decided to set up her own company offering exactly this service. She told knowitall.ch,"
"I am Swiss and lived as an expat during 10 years in different continents and cultures working in Banking. When I used to come back in summer time to Geneva I found it very difficult to find proper lodging for a family with children, just for a couple of weeks. Once back in Geneva permanently, I decided to start offering part of my house as a Bed and Breakfast and rapidly I was fully booked. Enjoying the contact with expats and tourists I decided to provide my services to other owners and created eShortRental Sarl, a booking platform for furnished accommodation in the region of Geneva and Lausanne. After 7 years we have 45 places and have lodged people from 47 countries."
EShortRental provides furnished studios, apartments and houses, located between Geneva and Rolle, for rental periods ranging from 1 week to several months. Properties range from beautiful apartments and luxurious villas located in downtown Geneva and its suburbs, through to charming houses in the countryside, or holiday rentals in the Jura and Alps. Properties can be booked online via the eShortRental.com website, or directly via telephone (see details below).
There are also a few properties on their list, which are available for sale, and can be bought on a Try & Buy basis, i.e. clients rent the property for a few months and if they like it, they can then opt to buy it. Able to work in French, English, German or Spanish, eShortRental is able to build good, long-term relationships with its international customers.
Many of the clients Brigitte helps are tourists looking for an alternative, more personal solution to expensive hotel accommodation. Others are expats arriving in the region and looking for a temporary residence until they can finder a longer term rental property that suits their needs. However, a growing number of clients are those who have lived in the region for many years and have decided to renovate their homes, or they are residents who are "in-between" homes, usually families who want to make the transition process as stress-free as possible for their children.
Asked what makes her service special compared to other estate agents in the region, Brigitte replied, "Since our focus is primarily on short term rentals, we have a better understanding of the needs of our clients. With a large selection of properties in our portfolio at any given time, we can afford to be highly selective about the accommodation we choose for our clients, and only propose those residences that best match their individual needs and priorities."
To guarantee the best quality of service, eShortRental will only accept properties, that they have visited themselves. Brigitte will speak to owners to make sure they are committed to serving the needs of their house guests, and will offer recommendations as required.
"At the end of the day", she commented, "we want our tenants to have a nice experience in our country. But it is equally important for us that our owners have a good feeling for the international flavor of this sparkling region, and are able to bring it into their homes!"
Brigitte Burgisser
eShortRental
This email address is being protected from spambots. You need JavaScript enabled to view it.
www.eShortRental.com