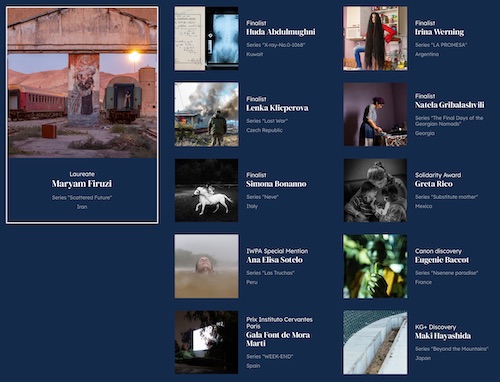 The IWPA photo award 6th edition exhibition will showcase over 30 images from 10 photographers that have been rewarded in 2022 also during this occasion, an announcement about the opening of the Switzerland branch IWPA in Geneva will be made.
Press release, Geneva, June 2nd, 2022
International Women in Photo - Switzerland Branch
International Women in Photo - IWPA officially opened its new branch in Geneva on 5th, May 2022 with four co-founding members. Senayt Santoro, President, Adeline Le Floch, Co-President based in Switzerland and Co-presidents/ Secretary Arantza Aramburu-Hamel and Laure Parise Co-presidents/Treasure in France.
With its community of over 4,000 photographers and a permanent team based in France, Japan and now in Switzerland, IWPA strives relentlessly to enhance gender equality by improving the visibility and recognition of female creators since its creation in 2003. Committed towards concrete actions for change, IWPA supports female creators primarily through its IWPA award, itinerant exhibitions in major cities of the world, its education project and mentoring program « My Photo, My Voice ».
Geneva Exhibition of the 6th Edition of the IWPA Award, June 16th until July 29th 2022
WRP Foundation - 12, rue François Bonivard, Geneva
After Paris, Dubai, Tokyo and Almeria IWPA is pleased to present the best female talents of the IWPA Award 2022 at the WRP Foundation, Geneva. The exhibition presents the photographic works of Award laureate Maryam Firuzi (Iran) and the 10 finalists highlighting their visions of social, cultural and intimate issues.
The IWPA award call running from September to October 2021, reached a final count of over 750 submissions from a record 95 countries, representing all continents and with a considerable increase in entries from Asia, Africa and the Middle East. This is an important step toward reaching IWPA's goal of promoting the work of women who lack exposure and recognition, while sharing with global audiences diverse stories about the realities of men and women around our planet. An international jury of eminent personalities from the world of photography examined the submissions.
Laureate Maryam Firuzi, Scattered memories of a distorted future, Iran (above)
The works of the Laureate of the IWPA Award 2022, Maryam Firuzi are a reflection about the possibilities of staying human in times of crisis. Since January 2020, Iran has been hit by political turbulence, drought, the coronavirus and an ever-growing economic crisis with devastating effects. Firuzi is asking how one can continue to stay oneself and continue to grow in these circumstances? Making physical ruins metaphors of pain and loss, she invited female painters to paint to their liking on the surfaces of abandoned places. The drawings of the various Iranian artists on monuments of the past leave many unanswered questions for the future.
Iranian artist Maryam Firuzi works and lives in Tehran. After having trained in cinema, she is working between the mediums of film and photography. Her films as well as her photographs have been shown in several photography exhibitions and festivals around the world, from Iran to the US to many European countries.
Finalist Lenka Klicperová, Lost War, Czech Republic
Lost War documents the outbreak of the conflict between the Caucasus nations in 2020 in the region of Nagorno-Karabakh, a disputed mountainous border area of Azerbaijan and Armenia previously controlled by Armenian forces. Klicperová captures moments of silence after the defeat: Armenians mourning their homes, the dead and the wounded, some setting fire to their houses so they would not fall into the hands of the Azeris.
Journalist, photographer and documentary filmmaker, Klicperová has been focusing on international conflicts and war. She has won many awards and nominations competition for both photography and video production. In 2020, she was included in the prestigious Women Photograph database. At the Annual Photography Awards 2021, she won 1st place in photojournalism. The artist is currently in Ukraine to capture the tragic events.
Finalist Irina Werning, La Promessa, Argentina
Werning met Antonella, while working on her project searching and photographing women with unusually long hair mainly in small towns in the mountains of Argentina. As Indigenous traditions persist with modern life, many abstain from cutting their hair, representing cutting one's thoughts. Antonella, 12 after spending a year and a half locked down at home, promises to cut her long hair if school reopens. An exploration of the devastating impact that the pandemic had on Latin American children's schooling.
A freelance photojournalist based in Buenos Aires, Irina Werning's work is at the crossroads of the various disciplines she has studied or teaches; economics, history, sociology. She has won several international awards, including the Emergency Covid Grant (National Geographic) in 2020 and the Pulitzer Reporting Grant in 2021.
Finalist Simona Bonanno, Neve, Italy
Neve is a project about the symbiotic relationship between the young girl « Neve » and her ponies. Having problems in communicating with adults beside her parents, Neve also finds it hard to interact with children of the same age. The only exception occurs when horses are an integral part of the play: they act as a bridge towards others. The photographs explore the joy and freedom derived from this bond formed in the stables in a world devoid of selfies and technology.
Simona Bonnano's work draws on her painting practices, her knowledge of the arts and her studies at the Beaux Arts, Paris. Her photographic work has been published in CNN, Resource Magazine, National Geographic, Amateur Photographer, Fotografia, and Reflex.
Finalist Huda Abdulmughni, X-ray-No.0-10687, Kuwait
Abdulmughni turns her camera to her own personal history through archives, x-rays, doctors' notes. In a retrospective exploration, the photographer retraces her journey with congenital hip dislocation diagnosed at the age of 4. A work of introspection, Abdulmughni is exploring the story that these objects, so intimately connected to her, tell through photography.
Driven by her curiosity for people's stories, Abdulmughni places her subjects in their own environment using natural light and familiar objects. Abdulmughni's photographs have been shown internationally in many exhibitions and festivals. Her series Collective Wedding in Yemen was awarded in 2020.
Finalist Natela Grigalashvili, The Final Days of Georgian Nomads, Georgia (above)
Adjara is a mountainous region of Georgia. The Muslim majority population lives typically from nomadic cattle breeding. The traditions and the old ways of life have been preserved to this day in this area, but in the last several decades due to the absence of basic living conditions, recurring electricity shortage, absence of education and health-care services, Adjarian villages are becoming empty. Grigalashvili's photographs allow a glimpse to the unique beauty of the landscape and its people.
Natela Grigalashvili works mainly on long-term documentary projects in the rural areas of Georgia, focusing on the life and problems of the inhabitants, villages and towns of the province.
Solidarity Award Greta Rico, Substitute Mother, Mexico
Rico's story is a deeply personal exploration of the yet universal crisis of feminicide. The documentary project follows her cousin who becomes the caregiver of her 3-year-old niece Nicole, when her mother is lost as a victim of sexual violence and murder. The series shows how hate crime perpetrated against women does not end with murder but has psycho-social repercussions on children, sisters, grandmothers and aunts who become surrogate mothers without recognition or help from the government.
Documentary photographer, journalist, and educator, Greta Rico reflects through images on colonization, gender culture, violence, and injustice.
Canon Discovery Eugenie Baccot, Nsenene Paradise, France
Nsenene Paradise captures otherworldly moments of the rainy season in Kampala, Uganda. Swarms of grasshoppers, « nsenene » as they are called in Luganda, invade the muddy streets. They are considered to be a delicacy. During the night, at the bright green light of large bulbs, the grasshoppers are trapped in outdoor cages of sheet metal, stunned by thick smoke and plucked alive by skilled hunters. In Uganda, a kingdom of insects, the nsenene are queens.
A freelance journalist published in the international press, Baccot captures stories around the world dealing with alternative and unconventional communities. In 2021, she received a grant to promote contemporary documentary photography.
Prix Cervantes Gala Font De Mora, Weekend, Spain
The Weekend project captures moments of some of the few drive-in cinemas still in service in Spain. It focuses on the special atmosphere of the microcosm of a drive-in cinema: the intimacy created inside the car, the connection between an individual and the screen. as well as the unique landscape of these places.
Font de Mora is interested in the interactions that human beings have with the spaces they inhabit. Her photography practice is combined with various creative activities, including commissions for cultural spaces, architects and designers.
KG+ Discovery Maki Hayashida, Beyond the mountains, Japan
Beyond the Mountains is a visual exploration of the illegal landfills that have invaded the Japanese landscape, mainly in the mountainous areas of the country. The project is documented through a mixture of archival images, current photographs and material from local governments. Hayashida questions human behaviour in a consumer society. She studies photography as a multi-layered narrative to perceive the present through the past. In 2020, she won the Grand Prize at the Singapore International Photography Festival's Dummy Book Award.
IWPA Mention Ana Elisa Sotelo, Las Truchas, Peru
Las Truchas (The Trouts), documents a group of women swimmers that formed during the pandemic in Lima, Peru. After a strict lockdown, 60 women between the ages of 16 and 73 venture out to practice open water swimming. From the demand for discipline and hard work come sisterhood, solidarity and resilience. These images search to highlight women's collective power, the will to thrive and depict the connection they form with each other in a time characterized by individuality and reclusiveness.
Peruvian visual artist and documentary photographer, Ana Elisa Sotelo seeks to create images that change the way we perceive strength and femininity. Through her images, she addresses stereotypes related to age, gender and profession.
Sponsors
Canon. Main sponsor of IWPA, CANON is the leader in the image chain, from the capture by photographers to the restitution of the most beautiful prints. CANON pays particular attention to women's working conditions and has launched in 2018 its Women@Canon network, which promotes women within Canon France.
EFTI, Escuela de Fotografía. Madrid, is an international photography education institution based in Madrid
Speos, International photography school, established in 1985. Spéos' mission is to prepare students to meet current market demands and accompany them in becoming successful photographers in the field of their choice.
Fisheye. Media partner, Fisheye is a contemporary photography magazine.
KG+is an art festival dedicated to discovering and fostering new talents and a satellite event to the annual KYOTOGRAPHIE International Photography Festival
Bird&Bird, International law firm with 30 offices on 5 continents, focused on in-depth knowledge of various sectors ranging from IT to life sciences, automotive, banking and financial services to retail and luxury
IWPA has been selected and labelled by UN Women France and its citizen engagement festival Generation Egalité Voices
FOR MORE INQUIRIES:
Please contact This email address is being protected from spambots. You need JavaScript enabled to view it. or This email address is being protected from spambots. You need JavaScript enabled to view it.
Geneva Exhibition of the 6th Edition of the IWPA Award
16 June through 29 July 2022
WRP Foundation
12, rue François Bonivard
1201 Genève
International Women In Photo Association
Chemin des Bois 7
1255 Veyrier
This email address is being protected from spambots. You need JavaScript enabled to view it.