We featured an article about HiremyHusband back in 2013 at this link. Now we have decided it's time to talk to Mike again!
The name is great. What is the story behind Hire My Husband?
As every great idea starts from my wife, this one started when I was job-hunting for a finance job (I have few academic degrees), and after some temporary work done here and there, the idea of using my knowledge as a handyman since my teenager years became apparent as a valid option for work. As I was unemployed at that time, my wife suggested DIY and posted a small ad without telling me. When I received my first order I realized the name had to stick! This is how it began and from the first job, I fell in love with it, opened my company, and didn't look back.
What area do you cover and what is special about this area?
Up to 50km radius around Geneva and neighboring France. The wonderful mixture of expats, working in the UN, international organizations, in banking or finance appreciate an English-speaking service that not only speaks their language but has a similar client-oriented service that they are accustomed to.
What are HMH specialties?
Settling into a new apartment - Furniture assembly, connection of washing machines and dishwashers, mounting of flat-screen TVs, childproofing the home (including consultation), lighting design and connection, painting, decoration, and more.

Interior design and planning - What I call functional design and living quality improvement: planing practical flexible solutions. As we master a wide range of fields, we can provide a full solution that not only looks good but also functional and make life easier and more comfortable. We pride ourselves in "thinking out of the box"; we find original solutions and solve unusual problems,

End-of-lease consulting and work - As we master a very wide area of skills we can help with consultation and the end-of-lease process, and among others: uninstalling appliances (washing machines, dishwashers, TV fixing) plastering walls and painting, moving of small items, and much more.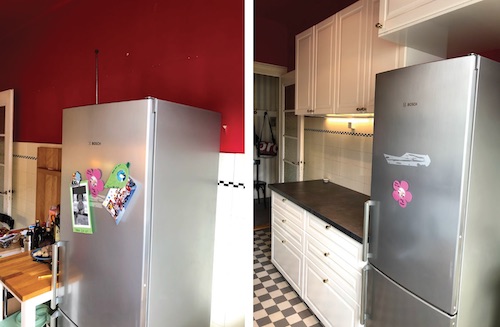 What has changed in the last 6 years and what is planned for the future?
Expanded services: We constantly strive to expand the services as we have experienced a growing demand from clients
Expanded area: We have been reaching a little bit further afield as our reputation and client recommendations have encouraged us.
Payment methods: We are working now to expand our payment instruments (Visa and Twint are planned for 2020) in order to make the payment process easier and more user-friendly.
And any other info you'd like to say to our readers.
Hiremyhusband is a company that is made from a passion to provide services that are far beyond technical services, but more of a lifestyle and home improvement. Our Moto "turn a job to do to a job well done" is not just a saying, we believe that service starts with approach and communication, understanding the customer's vision and needs and helping with our experience and know-how to realise this vision. I'd like to quote Mark V. Hurd here: Without execution, 'vision' is just another word for hallucination.
Hire My Husband
Handyman and home improvement services
078 912 67 63
This email address is being protected from spambots. You need JavaScript enabled to view it.
www.hiremyhusband.ch
www.facebook.com/hiremyhusband.ch