Photo credit: Lisa Cirieco
Château de Vullierens architecture, magnificent gardens and sculpture park form one of Switzerland's most remarkable heritage sites with an incomparable 180° degree view of the Alps, Mont Blanc and Lake Geneva. Rising from the foundations of a C13th fortress, Château de Vullierens is considered the purest example of early C18 architecture in the country. The 100-acre estate has remained in the same family for 700 years. It is visited by hundreds of local and international garden enthusiasts and art lovers.
The flowering season starts with tulips, followed by rhododendrons, bluebells, peonies, irises, roses, day lilies, herbaceous borders, hydrangeas, and concludes with the autumn plant collection.
The iris collection - started in 1955 - is considered one of the most modern in Europe. It features recent award winning American hybrids, including several rare re-flowering varieties. An incomparable 4-acre coloured mosaic is created by 400,000 flowers at the height of the season. Themed gardens provide additional delight, offering a varied selection of designs and vistas. The famous 'large trees collection' includes Sequoia, Oaks and possibly the oldest Tulip tree in Switzerland.
The sculpture park features over 80 large contemporary works by 25 Swiss and international artists - Davide Rivalta, Beverly Pepper, Alan Jones, Gillian White, Laura Ford, Dorothy Cross, Christian Lapie, Etienne Krahenbuhl, Manuel Torres, Pol Quadrens, Manuel Carbonnel, Mireille Fulpius, Carles Valverde, Herbert Mehler, Werner Pokorny, among others.
Vullierens' 6-acre vineyard features Chasselas, Pinot Noir, Gamay, Gamaret, Garanoir, and Galotta.
Photo credit: Regis Colombo
General Info
The gardens are open non-stop for 6 months from 17 April through 30 October 2022. Full opening details here.
Children's activity
The continuation of the King Lizard Kingdom with new adventures taking place.
The book (bilingual French/English and self-published) of The King Lizard Kingdom is on sale in the shop and online store.
Photo credit: Lisa Cirieco
Wine Club
Join the Wine Club at the price of Fr. 100.-. More information here.
Become a Wine Club member and enjoy many exclusive advantages:

10% discount on their wines (online and on site).
A discovery set of 3 bottles : Chasselas, Rosé de Gamaret-Garanoir, Pinot Noir with the purchase of the Wine Club card.
An oenological walk followed by a tasting of the new vintages and a terroir aperitif in one of the private cellars of the Château (Value: Fr. 45.-). Reduced rate for one accompanying person (Fr. 25.-)
2 free entrances to visit the estate from April to October.

The Domaine du Château de Vullierens, owned by the Bovet de Mestral family for 700 years, is famous for its vineyards, the architecture of its castle and its magnificent gardens. The historic vineyards extend to the south of the Château over more than 6 hectares. For many years now, environmentally friendly viticulture has been practised throughout the estate.
The vines are planted with 6 grape varieties, Chasselas, Pinot Noir, Gamay, Gamaret, Garanoir and Galotta which produce 5 wines, some of which have won awards.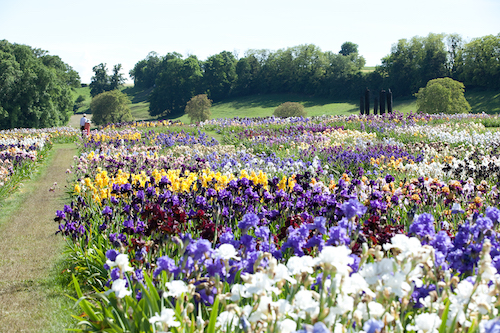 Photo credit: Regis Colombo
Café des Jardins
Open from 1 May through 26 June 2022 from 10h to 18h.
A la carte with seasonal and local products. Tasty desserts and homemade ice creams are served all day long, not to mention the Domaine's seven wines.
Shop
The Garden Shop offers a wide range of gifts and souvenirs as well as regional gastronomy products.
Porcelain, decorative objects, fashion accessories, mustards, oils, nuts from the domain, souvenirs, books on gardens and art, The Lizard King's Kingdom book.
You will find all the wines from the domain which can be tasted free of charge and purchased by the bottle or by the case.
Guided tour
Tours can be organized for 10-20 people in French, German, or English. Price on top of entrance price: Fr. 110.-/group for 1h; Fr. 140.-/group for 1h30. Registration necessary at

This email address is being protected from spambots. You need JavaScript enabled to view it.
Entrance fees: Updated prices here.
Fr. 15.-/adult
Fr. 12.-/senior, AVS
Fr. 10.-/student
Fr. 5.-/child (5-16 years old)
Season Adult Pass (entry unlimited in 2022) Fr. 40.-
Season Pass AVS (entry unlimited in 2022) Fr. 30.-
Season Pass child (entry unlimited in 2022) Fr. 10.-
About the domain
More than 80 sculptures by national and international artists in the gardens.
This is a private domain.
The castle cannot be visited, it is still inhabited by the owner.
The castle has been in the same family for 700 years.
Historic cellar open to the public since 2018.
All the irises present in the gardens can be purchased (order on the spot via a brochure or online on through the website). Delivery in August, September or October in Switzerland and Europe.
The terraces of the Château are open to the public since 2018.

The Bing Bang, sculpture by Etienne Krähenbühl, is rung daily at 14h30.
Photo credit: Regis Colombo
Les Jardins du Château de Vullierens
1115 Vullierens
078 917 43 03 café
079 274 79 64 office
www.chateauvullierens.ch
In spring, the Gardens are open from 17 April to 19 June 2022, daily 10h-18h.
In summer, the Gardens are open from 22 June to 21 August 2022, Wednesday to Sunday from 12h-18h.
In autumn, the Gardens are open from 27 August to 30 October 2022 only at weekends from 12h-18h.