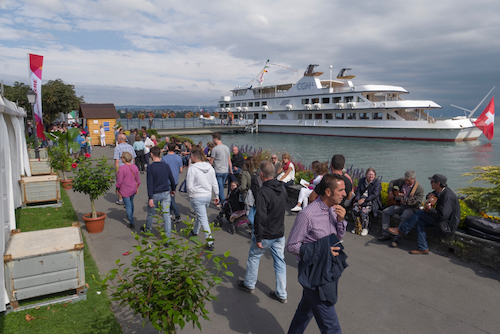 Taking place beside the lake in Morges between 6-8 September 2019, this 10th edition of Le Livre sur les Quais festival will host around 300 French- and English-speaking writers, covering a wide range of literary genres from children's books through to travel writing and crime fiction. A comprehensive program of talks, readings and round-table discussions has been set up throughout the 3 days of the event, some of them taking place on the lake in the form of literary cruises, as well as at various venues in and around Morges.
The Great Debates
Once again this year, Le livre sur les quais is pleased to offer a series of debates with the leading authors of the program! You will find the program of this 10th edition through the main website under "billeterie".

Literary Cruises
As every year, the boat Le Lausanne awaits you at the end of the quay, Saturday 7 and Sunday 8 September, for literary cruises. A unique opportunity to set sail with many authors! Sail on Lake Geneva with your favorite author by booking your ticket directly through the main website under "croisières".
Master class and writing workshops
After so many readings you might be inspired to attend a writing workshop! Le Livre sur les quais is hosting a few workshops on Saturday 7th September, including a master class in film writing, led by Joseph Incardona.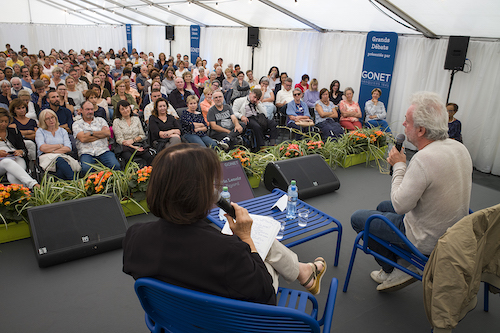 ©Yves Leresche
English-language authors
The program is rich and several pages long so here is a selection of the English-language authors of Le livre sur les Quais 2019
Friday, 6th September
> 16h30 - 17h30
C'est mon Amérique à moi !
Avec Jim Fergus, Douglas Kennedy et Brice Matthieussent
Animé par Pascal Schouwey
En français
Tente Grands débats
Saturday, 7th September
> 11h - 12h
Secrets, Lies and Redemption
With Anne Griffin and Michelle Bailat-Jones
Chaired by Clare O'Dea
Nouvelle Couronne, downstairs
> 12h15 - 13h15
Book Club with Sarah Moss
Open to the public and chaired by Matthew Wake
Nouvelle Couronne, downstairs
> 13h30 - 14h45
Human Loyalty and Survival
With Paul Lynch
Interview by Michelle Bailat-Jones
Nouvelle Couronne, downstairs
> 15h - 16h15
Interview with David Mitchell
Interviewed by Matthew Wake
Nouvelle Couronne, downstairs
> 16h30 - 18h
Creative Writing workshop run by Samantha Harvey
Playing with Structure
Bibliothèque municipale adultes
To register: This email address is being protected from spambots. You need JavaScript enabled to view it.
Sunday, 8th September
> 11h - 12h15
Recreating the Past
With Jim Fergus and Samantha Harvey
Chaired by Matthew Wake
Nouvelle Couronne, downstairs
> 12h30 - 13h45
Families, Patriarchs and Politics
With Sarah Moss and Preti Taneja
Chaired by Michelle Bailat-Jones
Bateau Le Lausanne, Sundeck
(Partnership with Geneva Writers Group)
> 14h - 15h
Magnificent Imaginations
With David Mitchell and Stuart Turton
Chaired by Salomé Kiner
Nouvelle Couronne, downstairs
> 15h15 - 16h15
Patti Marxsen talks with Michelle Bailat-Jones on writings and life of Haitian hero, Jacques Roumain
Interview by Michelle Bailat-Jones
Nouvelle Couronne, downstairs
> 16h30 - 17h30
The Challenges of Writing for Young People
With Global Geneva
Panel discussion with Natalie C. Anderson, Matthew Wake, Ed Girardet and young journalists
Nouvelle Couronne, downstairs
Access
We recommend that you travel to Morges by public transport.
By train: 5 min. walk from the station www.sbb.ch/fr
By boat: at the edge of the landing stage www.cgn.ch
By car: take the Morges Ouest motorway exit. Go down towards the lake and follow the signs (Saturday-Sunday) for the car parks.
The Tents and most of the places where the meetings take place are accessible to people with reduced mobility. Unfortunately, access is not possible in the following locations:
Hôtel du Mont-Blanc
Alexis Forel Museum
Odeon Cinema, upper room
Château de Morges scene
Exhibition opening hours
Friday: 9:30 am - 7 pm
Saturday: 9:30 am - 8:00 pm
Sunday: 9:30 am - 6:00 pm

Association "Le livre sur les quais"
This email address is being protected from spambots. You need JavaScript enabled to view it.
https://www.lelivresurlesquais.ch/morges-literary-festival-le-livre-sur-les-quais/
Morges Tourist Office
Rue du Château 2
1110 Morges 1
021 801 32 33
This email address is being protected from spambots. You need JavaScript enabled to view it.
www.morges-tourisme.ch
Save
Save
Save
Save
Save
Save
Save
Save
Save
Save
Save
Save
Save