As the Spring weather returns, what better time to treat yourself to a weekend break with family or friends? With the lake and mountains on your doorstep, you really don't need to spend hours in the car traveling to your destination – in fact you don't even need to drive! The Swiss train network covers most popular resorts along Lake Geneva, and if you choose your hotel carefully, then a pleasant 2 minute stroll is all you need to reach your destination!
For total relaxation, comfort, convenience and stunning views, we recommend you stay at the Eurotel Montreux. Situated right on the lake front in Montreux, near to the railway station but with its own underground car park, this luxury 4-star hotel offers customers a warm welcome in a stylish setting. The entrance foyer, restaurant and breakfast rooms, as well as many of the bedrooms have recently been redecorated – indeed, when I went to stay there at Easter with my family there was still a pervading smell of leather from the new furnishings!
The hotel offers 157 rooms and 2 executive suites spread over 16 floors, all with balconies, offering breathtaking views over the lake and mountains. If there is availability, be sure to ask for one of the newly refurbished rooms (the rooms are being renovated gradually throughout the building), preferably one situated on the corner of the building with a double aspect, totally unbeatable view! The hotel offers Wifi Internet free of charge in all the rooms, which are equipped with everything you need to make your stay is as comfortable as possible. TV includes many of the British stations not normally offered in hotels, including the main BBC and ITV channels.
When you arrive at the hotel, you will be offered a Eurotel Riviera card, which offers amazing discounts on local transport and attractions. You can travel for free on the Mobilis Montreux Riviera transport system (including zones 70, 72, 73, 74, 75, 76, 77 and 78) or with a 50% discount on many of the mountain train services (Montreux-Rochers-de-Naye, Vevey-Les Pléiades, and Les Avants-Sonloup). Local CGN cruises are also reduced in price by 50% and there are similar reductions on entry prices into local attractions such as Aqua Parc and Swiss Vapeur Parc at Le Bouveret, the Alimentarium in Vevey, Chillon castle a short walk away, or the Bex Salt Mines. Check out this page to view the full range of discounts available. If your plan your outings carefully, you can save enough money so that dinner in the hotel in the evening will virtually pay for itself (more details below)!
Please note that there is one card for each person staying at the hotel (including the children) – but do remember to make sure you have your ID with you in case you are asked to present any formal identification at any of the ticket checkpoints. To give you an idea of what is possible, we caught the train to Chillon castle (there was no need really as it is so close, but the kids wanted to!), spent the morning at the castle, had lunch on the paddleboat from Chillon to Vevey, where we visited the Alimentarium, before catching the bus back to Montreux. We then took a leisurely stroll along the market stalls on the promenade, before having afternoon tea at the Eurotel's Safran restaurant terrace, which can be accessed directly from the promenade.
In the evening, the Safran restaurant transforms itself into a wonderful dining experience, offering a wide range of seasonal, home-made dishes, incorporating fresh local produce from nearby farms and vineyards, as well as fish from Lake Geneva. Presentation is clearly a top priority for the chef: even a simple dish of filets de Perche is beautifully arranged, with French fries being served in greaseproof "newspaper" within their own mini deep-fry basket. We didn't have any room for desserts, but a quick glance over at neighboring tables left us in no doubt that they were a big success with the diners! If you're just visiting Montreux for the day, then the Safran restaurant is definitely worth a visit –either at lunchtime (view the weekly menu here), or in the evening, where you have the option of the full à la carte menu. For spectacular views, I can't imagine a better-placed restaurant in the whole of Montreux!
Breakfast in the hotel's Bel Horizon restaurant offers yet more opportunities for guests to enjoy spectacular views over the lake – indeed the first floor restaurant is built over the main Montreux promenade and is perched just over the water's edge. During full occupancy breakfast can be quite hectic, so you are advised to time your arrival carefully and try to avoid peak times if at all possible. A buffet service is provided with hot and cold dishes covering everything from bacon and sausages, through to ham, cheese and fruit salad and, of course, an enticing selection of fresh, locally baked bread and croissants.
There are endless opportunities to amuse yourself in Montreux – your Riviera card lists just a few of them, but there are many more suggestions if you visit the Montreux tourist office. For the more adventurous, the hotel offers guests the possibility of hiring paddle boards for free. These have become very popular of recent years and can be lots of fun – providing you don't mind getting wet! Bikes are also freely available, but there is a limited number, so if you want to be sure of getting one for the whole family, then you are advised to check availability with reception as early as possible.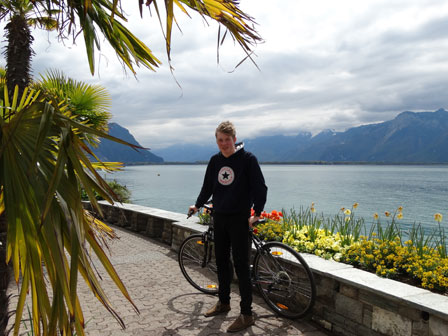 We were able to hire bikes during our stay, and cycled the famous "flower path" between Montreux and Chillon castle, and then beyond to Villeneuve. The path is probably one of the most picturesque routes you will ever cycle. The tulips were simply amazing when we went - so much so that I had to stop every 5 minutes to take photos! If you are cycling with young children, you should be aware that the path can be quite busy at the Montreux end – when we did it, there were literally hundreds of Manga fans dressed in all kinds of weird and wonderful costumes walking along the promenade in the direction of the Polymanga exhibition, which takes place every year around April at the 2M2C exhibition center situated next to the Eurotel Montreux!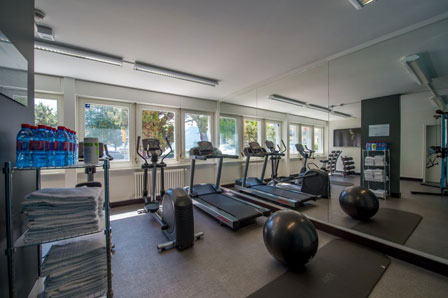 If the weather is not very inviting and you are looking for indoor activities, then the hotel also has a gym available for the guests. Although quite small, it is bright and airy and has enough cardio and weight training equipment to enable you to do a full workout. Bottled water and towels are also freely available for the guests to use.
To summarise, the Eurotel Montreux is an ideal place to spend a few days with family and friends. When it comes to finding a stylish hotel with great views, offering every comfort and convenience, including fine dining and endless opportunities to amuse yourself, it certainly ticks all the boxes! The hotel runs a number of special offers throughout the year, so do check their website regularly to make sure you get the best price: http://www.eurotel-montreux.ch/en/special-offers/.
Eurotel Montreux
Grand-Rue 81
CH-1820 Montreux
021 966 22 22
This email address is being protected from spambots. You need JavaScript enabled to view it.
www.eurotel-montreux.ch/en/