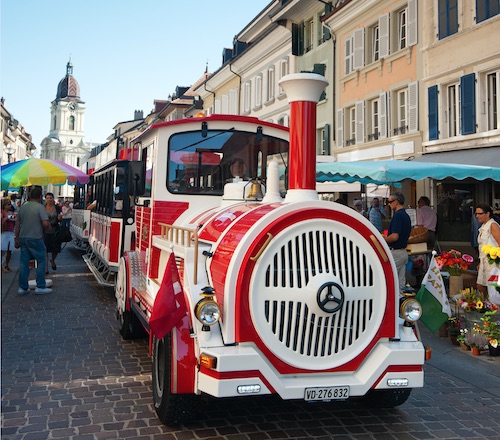 From now through 16 September 2019, board the Petit Train and discover the town of Morges and the surrounding vineyards from a different viewpoint!
Ferme aux Cretegny
On Wednesdays from 10 July to 14 August, all ages will enjoy the ride to the "Ferme aux Cretegny" in Bussy-Chardonney. Besides being able to observe many animals, you will also bake a sugar bun that you can munch on after partaking in a buffet lunch highlighting local products. https://www.ferme-aux-cretegny.ch/evenements
The Wine Train
The Petit Train will also take passengers to the wine-growing areas of the region. On Thursdays from 11 July to 29 August, travel through vineyard routes to regional wineries. Explanations about the vine, visit of cellars, and wine-tastings will be on the program!
Rent or hire the train
It is also possible to rent the Petit Train for private outings. Whether for a wedding, business outings, or school outings, the train drivers will be happy to take their passengers wherever they wish. Itinerary routes may be obtained at the tourist office, or custom-made to suit your needs.
In 2018, 3,230 people boarded the Petit Train for a city tour or vineyard. The Train des Vignes was equally a success with nearly 210 passengers taken to the cellars of the region.
Le Train à la Ferme, le Train des Vignes, and private rentals may be booked at the Morges Tourisme office, by phone, email, or online.
Morges Tourisme office
Rue du Château 2
1110 Morges
021 801 32 33
This email address is being protected from spambots. You need JavaScript enabled to view it.
https://www.morges-tourisme.ch/fr/GP1834