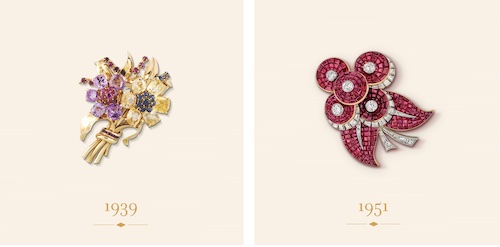 Van Cleef & Arpels collection
Left: Bouquet clip, 1939. Yellow gold, blue, yellow and pink sapphires, rubies.
The Van Cleef & Arpels boutique in Geneva welcomes the exhibition "Emblematic High Jewelry Creations" from November 23rd to December 30th, 2023. Visitors can discover nearly sixteen historic pieces from the Maison's patrimonial collections.

The exhibition is free and accessible upon reservation. To prepare your venue, follow this link.

The first Geneva boutique, opened in 1960, soon attracted a clientele seduced by the Maison's savoir-faire. In 2013, the exhibition "Van Cleef & Arpels: 50 years of history in Geneva" celebrated the Maison's relationship with Switzerland. Almost 10 years after the opening of this exhibition, the High Jewelry creations are once again displayed in the historical boutique.
Among the centerpieces of the exhibition is the majestic Zip necklace (above), created in 1951, a true gem of innovation characterized by its wide palette of precious stones including diamonds, rubies, sapphires and emeralds.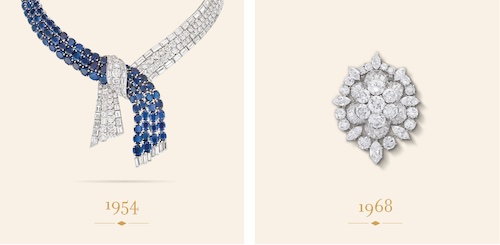 Van Cleef & Arpels collection
Left: Collaret necklace, 1954. Platinum, sapphires, diamonds.
Right: Pendant clip, 1968. Platinum, diamonds.
The exhibition also presents other remarkable pieces: the Cinq Fleurs clip and the Pastilles earrings created in 1951. The use of Mystery Set, a technique first patented by the Maison in 1933, breathes vivacity into this set. Specially cut for this purpose, the stones are individually inserted to completely cover the metal and preserve the gems' true beauty.

After extensive renovation work, the boutique now welcomes visitors back to rediscover a timeless world of beauty and harmony.
Emblematic High Jewelry Creations
23 November through 30 December 2023 (Closed on the 25th and 26th of December 2023)
Van Cleef & Arpels
31, rue du Rhône
1204 Genève
www.vancleefarpels.com
geneve@vancleefarpels.com
022 311 60 70
Debra from All Around Geneva will be on hand as one of the conférencières the following dates in case you want to book those days: 6, 7, 8, 21, 22, 23, 27, 28, 29, 30 December 2023.