This second-hand charity shop, La Frip', is a team effort of 7 volunteers who sort out items that are donated from people in the local area. All profits are donated to children's charities including Compassion International, orphanages, and schools.
They have 3 objectives:
To reuse items therefore reducing waste
To be a nice place to have a coffee and meet up with friends
To donate money towards charities serving underpriviledged children
Drop by for tea/coffee in a relaxing environment or conversation. You won't be disappointed.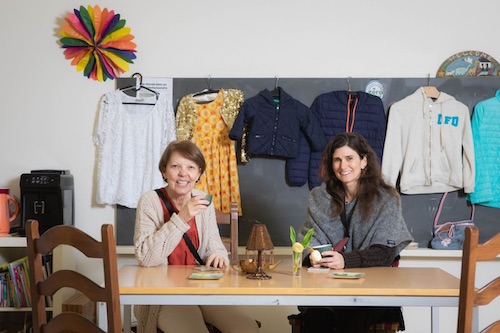 Linnann Muhlemann writes to knowitall.ch, "Come visit us in Nyon on Tuesdays, Wednesdays, and Saturdays! We love to meet new people. Take advantage of our New Year 2023 Sale. We have jeans for Fr. 4.- only and lots of great winter gear including hats and scarves at Fr. 2.- each!"
They share a passion to make our world a better place by meeting the needs of the local community in a warm and friendly welcoming environment.
They are happy to announce that they are now partners with Escale at St. Prex.
La Friperie Caritative Nyon
12, ch. de la Redoute
1260 Nyon
https://lafripnyon.wordpress.com
This email address is being protected from spambots. You need JavaScript enabled to view it.
Bus 805 or 820 stop "La Redoute"
Open hours:
Tuesday 11h-17h
Wednesday 13h-17h
Saturday 10h-13h
Photo credits Jane del Pozo©