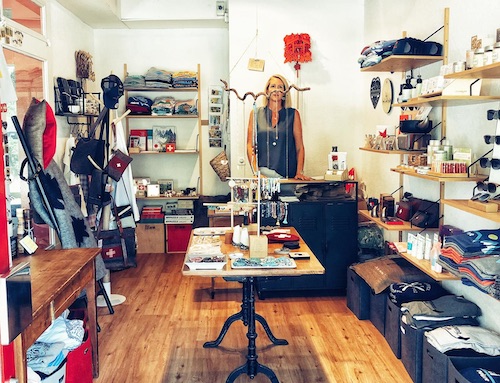 Vachement Suisse is a boutique that features a variety of Swiss goods ranging from home design, bath and body and semi-precious jewelry to hand made wooden toys and unique shirts celebrating Swiss culture and the Tour du Mont Blanc. The word "vachement" is a familiar word in French meaning "very". It comes from the word "vache" which means cow. So the name "Vachement Suisse" means very Swiss. That's why the majority of Vachement Suisse's products are made or designed in Switzerland. The word vachement also obviously evokes the ever popular image associated with Switzerland... the cow.
We caught up with Sarah de Rivaz to find out more. Read down to enter our competition to win a voucher and tote bag!
Why did you start? What has been the inspiration?
I grew up in the American midwest and had always dreamt of living in the Swiss Alps one day. Later, I attended Emory University, choosing to study French language and culture, not really knowing where it would take me. By complete chance, I met my French-speaking Swiss husband in my hometown of Kansas City and returned with him to Switzerland to get married and start a family. Over 20 years later, we are raising our 4 children in his hometown of Champex, a small resort on a glacial lake tucked up in the Swiss Alps. As my passion for my adopted country grew even stronger, I felt this desire to share the beautiful qualities of the Alpine lifestyle with people all over the world as well as here in my community.
I began discovering products and creations by Swiss artists, designers and artisans and decided to open an online boutique as well as a cosy storefront in the center of Champex. I feature small family businesses, women-owned businesses, artisans, ethically conscious businesses as well as some of my own creations. I feel so blessed to be living out my childhood dream and enjoying the incredible quality of life here in the Swiss Alps, and it excites me to share it with you!
When did you decide to open up a shop?
The idea came to me in the spring of 2016 and I opened July 4 of the same year! I didn't want to waste time overthinking it and I am a very reactive person. Once I make a decision, I find a way to make it work. It has been very exciting and I love seeing the client's reactions.
What is the biggest obstacle you have had to overcome?
My biggest obstacle is trying to stay up with the online marketing trends. I'm a one woman show and trying to keep up with what is currently working can be difficult. Reaching more people and creating a bigger following /client base is challenging.
Where do you see this company going?
I'd like to be a known brand in Switzerland and for my Tour du Mont Blanc t-shirts (see photo below). My goal is to have online sales grow as well as get more into corporate gifts.
Vachement Suisse's own design of SKI APERO DODO sells for Fr. 50.-
What is your favorite product you offer and why?
I love my original "ski apéro dodo", "rando apéro dodo" and "vélo apéro dodo" t-shirts. I'm proud of creating a product that is so well received. For those not in tune with the slang "dodo", I should add this means "sleep". I also love the Alpinte glasses (photo above) as they are beautiful mini works of art that are useful as well as make great gifts.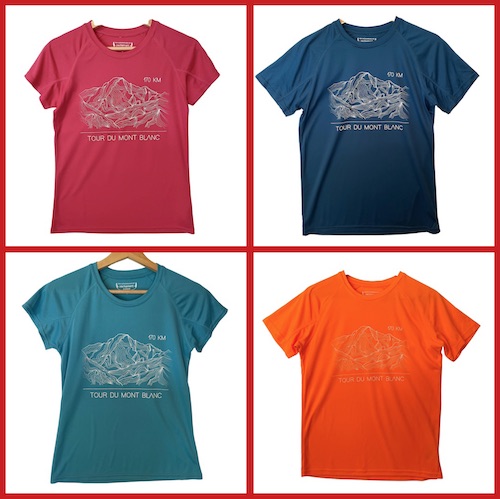 Vachement Suisse's own design of Tour du Mont Blanc sells for Fr. 30.-
One of Sarah's clients, Debbie Francis, wrote to knowitall.ch, "Vachement Suisse is a great place to shop. Our family favourites are the t-shirts and hoodies; tastefully designed in various colours and styles, they wash and wear well which is a definite plus with my 3 boys. I love their cosy slippers which come in fun colours - they are so well insulated it is easy to pop out in the snow in them. There is always something new that you are unlikely to see anywhere else, which makes it a great place to find that elusive gift, or treat for yourself. Sarah, the owner, is wonderfully helpful & can chat easily in English or French - she is happy to place an order for you if the size or colour you'd like is not in stock."
Anything else you think our readers would like to know.
Vachement Suisse is proud to be a company that also gives back. I teamed up with Zoë from Simply Zoë in 2019 to create t-shirts that raise money and awareness for cancer research. Our FEARLESS. line has raised thousands of francs for various cancer associations in Switzerland.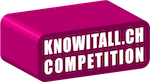 Vachement Suisse is kindly offering one lucky knowitall.ch reader a voucher worth Fr. 20.- PLUS a free Vachement Suisse tote bag that sells for Fr. 10.- (total prize value Fr. 30.-). The prize is to be used through 31 August 2022. Just fill out this form and answer this question: What is the meaning of "Vachement"?
Only one entry per email is allowed. The competition closes at midnight on Thursday, 16 June 2022. The names of all those submitting correct answers will be placed into the digital hat and the winner's name drawn at random on Friday, 17 June 2022. The winner will be notified by email. No cash equivalent of prizes is permitted.
Vachement Suisse
Route du Lac 42
1938 Champex, VS
Sarah de Rivaz
079 236 67 81
This email address is being protected from spambots. You need JavaScript enabled to view it.
www.vachementsuisse.com
Instagram and Facebook @vachementsuisse