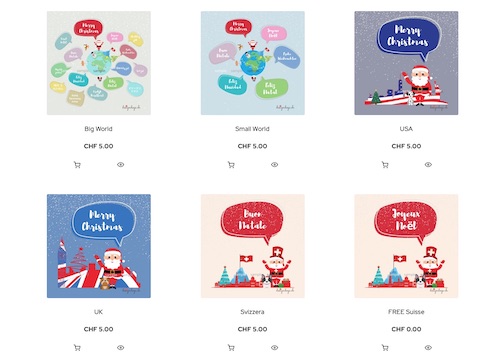 We have recently found out about a digital design greeting card website based in Switzerland. It is run by a local entrepreneur and there are currently 7 designers, some feature doggy related designs too!
Most cards run between Fr. 3.- and Fr. 10.- but some are even available for a limited time for free. Help support our local entrepreneurs by choosing this alternative paperless greeting system.
Designdog.ch is an online pop-up shop which sells digital cards designed by a team of canine artists. Each dog has their own trademark designs. It is available only for a certain period. Limited edition and paper-free! The site currently shows designs for Christmas and New Year.
The idea of sending unique digital card greetings to family and friends was conceptualized by a local entrepreneur during a recent Covid lockdown as a way to allow people communicate easily, quickly, and in a fun, cool way.
Next pop-up schedule: Chinese New Year and Valentine's Day.
Design Dogs Switzerland
Digital Cards