A blank canvas? Isn't there a design missing? What is Swiss Post trying to tell us with this special stamp – which is undoubtedly the right name for it? The answer to the puzzle is as striking as it is obvious. Canvas is the classic backcloth for paintings and, as such, has come to symbolize art in general.
Because it's blank, it represents art not yet created – perhaps due to a lack of funding. Swiss Post has been promoting and collecting contemporary art since 1924. The collection that it has put together comprises around 400 works and a nationwide portfolio of art in architecture pieces. In 2020, a new art strategy was devised.
The new commitment to art is based on three spheres: the art collection, art in architecture and a partnership with art events in the periphery. Swiss Post plays a pioneering role when it comes to corporate art collections and promoting culture in Switzerland – and that's exactly what the new special stamp set aims to raise awareness of. The first in the series is this stamp dedicated to Swiss Post's traditional art collection. Switzerland has never had a stamp made purely of canvas before. That's why a making-of film was also produced for this very special stamp.
The two "Animal messengers" special stamps aim to encourage people of all ages to take the time to write personal greetings and send them by letter mail. The stamps are adorned with cheerful illustrations and speech bubbles, which can be coloured and filled in. When affixed to a letter, they show appreciation for the recipients.
Featured are two animals delivering messages in very different ways. The owl – a wise and poetic animal – is gently riding the waves in a paper boat and delivering its message by water. The design focuses on the theme of harnessing the power of nature and subtly encourages us to reflect on what might be written on the paper. A peaceful and composed image. The fox is portrayed as a sly animal full of energy. At breakneck speed and full of curiosity, he flies through outer space in his self-constructed rocket. The vibrant, brightly coloured design serves as a creative prompt for us to reflect on our existence and its possibilities and limits.
The graphic artist Nina Binkert is familiar with the topic of card-writing, as she also illustrates greeting cards for her own label. Using watercolours, drawing ink and a variety of materials, she produces dreamy, lovingly-created designs inspired by everyday life and items found in second-hand shops.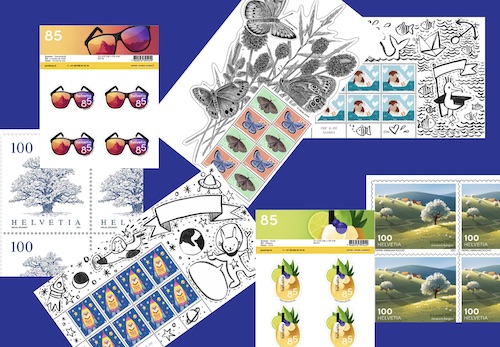 A fresh take on stamps: everyone will warm to these amusing designs. After all, who doesn't want to be able to send some summer vibes by mail? Evoking a summer atmosphere through simple items – that was the design brief given to three artists for these special stamps. "Sunglasses", "Drink", "Ice cream" and "Watermelon", some classic elements of summer, were picked as the themes. Swiss Post employees then voted on the three proposed sets of designs. The designer Patrick Oberholzer from Winterthur emerged as the winner. To make the designs as eye-catching as possible, he used a warm, powerful and fresh range of colours with a clear use of form.
Despite the small format, there's plenty to discover in his designs: the designs are enriched by the use of playful features, such as a fruity silhouette for the drink, a touch of Swissness reflected in the sunglasses and sweet decorations on the cone. For the typographical elements, Oberholzer opted for a geometrically structured font, which is incorporated into the illustrations in a readable and harmonious way with its rounded zeros and reduced forms.
A major issue on a small format. Encompassing the environment, economy, social affairs and art, sustainability is an extremely diverse and multifaceted topic. All of this can be discovered in a playful way on the new special stamp "Sustainability". The special stamp is the result of a design competition organized by Swiss Post in conjunction with the Bern University of the Arts. 22 highly dedicated students in their second year of the Visual Communication course were given the task of presenting various dimensions of sustainability in a positive and appealing way in form of a stamp design. After learning and testing various creative techniques, they worked in groups to create extensive visual worlds. All the students then continued the work individually, with close support from their lecturers.
The result were 22 varied, astonishing and highly original designs, from which the best eight were selected and presented to the Stamp commission in the final round.Carole Kiechl's design was declared the winning design. The stamp is designed to encourage people to complete the word search puzzle – both before sending and after receiving letters. As well as the already circled word "HELVETIA" and the face value "100", there are 24 other German, French and Italian words related to sustainability to be found. How many can you find?
Switzerland has 19 parks of national significance. Swiss Post is dedicating stamps to four of these extraordinary Swiss regions – two in the Jura mountains and two in the Alps. To present the most typical of Swiss landscapes in the most fitting way possible, Swiss Post worked closely with the umbrella association Swiss Parks Network. The stamps depict not just pristine nature, but also intact settlements and living traditions. Human presence is tangible: scenery is portrayed as cultural landscapes. The splendid alpine hut in the wildly romantic landscape of the Jura Vaudois Nature Park, with its wooded pastures and drystone walls, represents both tourism and the artisan cheese-making characteristic of the alpine economy. The Septimer Pass – a transport route to Italy that has been in use since Roman times – runs through Parc Ela.
Today, it's a popular hiking trail. A Roman bridge to the south of the top of the pass is depicted. In the Argovia Jurapark, a wonderfully hilly landscape rich in biodiversity can be found – a green treasure trove. The cherry trees, for example, are typical of the Frick Valley. Finally, the Binntal Nature Park comprises six municipalities in Upper Valais. The park is famous for its delightful villages and hamlets with their chapels, barns and storehouses.