Rocky's Adventure Hardcover – July 21, 2021
by Katrina Syran (Author), Martina Selway (Illustrator)
When we found about that a local author, Katrina Syran from Rolle, had recently published a children's book, we just had to know more!
We caught up with Katrina and she explained that Rocky is real, and the book is based upon a true story. She is even offering one lucky knowitall.ch reader a signed copy. Read down to find out how you can buy some as Christmas presents too.
The story
Rocky is a naughty parrot who lives in Switzerland with his family. One day after his family places his cage on their balcony so he can enjoy watching other birds, Rocky escapes and flies away with his green parrot girlfriend.
Rocky loves exploring the outside world. But soon after he and his girlfriend fly into a forest, Rocky is captured by a big man who takes him home and clips his wings. Frightened and feeling quite alone, Rocky realizes he misses his wonderful family. Will he ever find his way back home to reunite with those he loves?
In this tale of courage and hope inspired by a true story, a domestic parrot living in Switzerland escapes from his cage and embarks on an unexpected adventure full of danger and surprises.
Katrina tells us, "I have written since I learned to write at school, think I must have about 30 diaries. I believe everyone dreams about writing a book, to write a children's book has been very rewarding, especially with talented Martina Selway. Her illustrations are beautiful!"
What has been the inspiration?
I love animals and after having four children I have filled the house with 3 dogs, a cat and a parrot. It's the real story of my parrot Rocky that inspired me to write this book.
Have you been working on this idea forever?
For sure been on my mind for a couple of years, and then with Covid hitting us, I finally sat down and saw it through.
What is the biggest obstacle you have had to overcome?
Honestly there was no obstacle which I feel is good, felt like it was meant to be and that the timing was right.
What are your plans for the future?
I hope this will be the first of many children's books. Having four children gave me many opportunities to do bed time reading which I find it very rewarding. I hope my book will inspire other parents to cuddle up to their children and enjoy those precious moments. I would love to continue to create and express myself through this medium.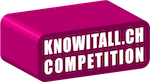 Katrina is kindly offering one lucky knowitall.ch reader a copy of Rocky's Adventure (a Fr. 15.- value). Just fill out this form and answer this question: What kind of bird is Rocky?
Only one entry per email is allowed. The book will only be delivered to a Swiss address. The competition closes at midnight on Thursday, 9 December 2021. The names of all those submitting correct answers will be placed into the digital hat and the winner's name drawn at random on Friday, 10 December 2021. The winner will be notified by email. No cash equivalent of prizes is permitted.
Rocky's Adventure
by Katrina Syran (Author), Martina Selway (Illustrator)
Publisher: ‎Archway Publishing (July 21, 2021)
Hardcover: ‎24 pages
ISBN-10: ‎1665705000
ISBN-13: ‎978-1665705004
Dimensions: ‎8.5 x 0.25 x 11 inches
https://www.amazon.com/Rockys-Adventure-Katrina-Syran/dp/1665705000
https://www.waterstones.com/book/rockys-adventure/katrina-syran/martina-selway/9781665704991
https://www.wob.com/en-us/books/katrina-syran/rocky-s-adventure/9781665704991