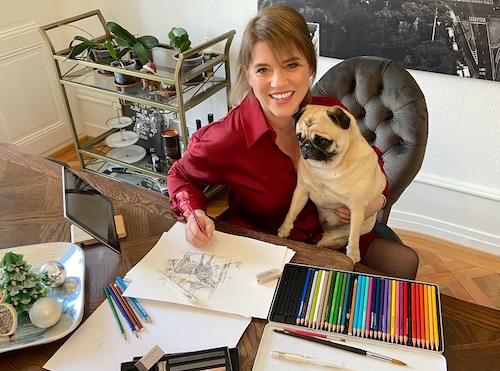 For its first exhibition of the year, L'Étagère Lausanne welcomes local artist Stacey Felberbaum. The designer will take visitors to meet the inhabitants of the forests, around twenty animal portraits made in pencil and acrylic after face-to-face meetings between Switzerland and the United States. There is also a corner more "familiar" with the portraits of pets, of which only she has the secret. Discovering this committed artist who operates under the pseudonym "Sketch of Pets". We caught up with Stacey and she has kindly offered a custom pet portrait (13x18 cm) to one of our readers. Read on to find out how to enter the competition or how you can contact Stacey to commission a portrait of your pet.
What has been the inspiration behind your art?
I am passionate about animals and I love drawing so mixing both was just logic. Plus it is great to make people happy: having a portrait of an animal at home brings joy in people's lives.

Have you been working on this idea forever, or was it something that came to you recently?
When I was a child, my mother always used to tell me how I should be an animal artist and she always pushed me to do pet portraiture. This idea was in the back of my mind for ever... It's only last year when we had our first lockdown with Covid-19 that I took the leap. I did a few portraits as a surprise for some friends to cheer them up. The surprised snowballed and I launched myself to make a hobby into something fruitful.
What is the biggest obstacle you have had to overcome?
Myself, I am my worst judge. I had to trust my heart, friends, and happy customers and keep going.

What are your plans for the future?
Sunny and bright : ) I am still working on commissioning pets portraits. I am interested in developing new ideas, maybe some cool stickers or postcards too. Also I had a great opportunity with a photographer who asked me to paint one of his wildlife photos, that is something that I want to delve into with acrylic paints on canvas!
What is your favorite product you offer and why?
Pet portraits. I love meeting new owners and they tell me about their pets and share their piece of stories, and how their pet is unique. It is a special moment, so many great stories from funny to sometimes a bit more sad but always ending with the portrait and big smiles.


Anything else you think our readers would like to know.
For each painting and portrait I give a donation to the Société pour la protection des animaux to a fund that helps animals who struggle to find forever homes. They need our help, and I am happy to give back some money so they don't lack any necessities.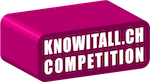 Stacey has kindly offered one knowitall.ch reader a custom pet portrait (13x18 cm: a Fr. 150.- value). Just fill in this form and answer the following multiple choice question: What is Stacey's pseudonym?
Only one entry per email is allowed. The competition closes at midnight on Thursday, 15 April 2021. The names of all those submitting correct answers will be placed into the digital hat and the winner's name drawn at random on Friday, 16 April 2021. The winner will be notified by email and his/her first name will be added to this article after the competition closes.
The best way to see Stacey's work is at the exhibit now on through 15 April 2021. You can always have a peek at what she is working on through her website and Facebook page.
Stacey Felberbaum "Sketch of Pets"
staceyfelberbaum@gmail.com
www.sketchofpets.com
L'Etagère
Rue Jurigoz 13
1006 Lausanne
021 601 08 72
info@letagere.ch
https://letagere.ch
1-15 April 2021
Monday to Friday 8h-17h
Weekends by appointment only.
Opening night, 2 April 2021 at 18h30 (with covid restrictions).
COMPETITION WINNER: L I S A H.