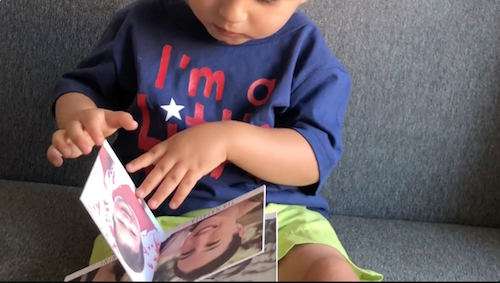 It isn't often that we come across something so practical from an entrepreneurial mother. The expression "Necessity is the Mother of Invention" certainly rings true in this case.
Introducing "My tiny prints" — custom, handmade, manipulation-resistant, photo board book for your little one to remember family and friends who he/she may not get to see often.
"My tiny prints" is based in Geneva and is run by one expat mom, Monica Freudt, who found that making one for her own toddler would help him recognize his aunts, uncles and cousins who live abroad and turn them into friendly, familiar faces. He just loves looking through it again and again.
"My tiny prints" books are the perfect size for your baby's little hands, measuring 10cm x 10cm. They are made of hard board and their content is completely customizable. Books start at Fr. 22.- and hold 12 photos; more photos may be added for a few extra francs.
You can place your order in a few easy steps, all done through your smartphone or computer and bring your family or friends together in one very special book.
My tiny prints

This email address is being protected from spambots. You need JavaScript enabled to view it.
https://mytinyprintsorders.wixsite.com/mytinyprints/make-my-own-board-book
Instagram @mytinyprints