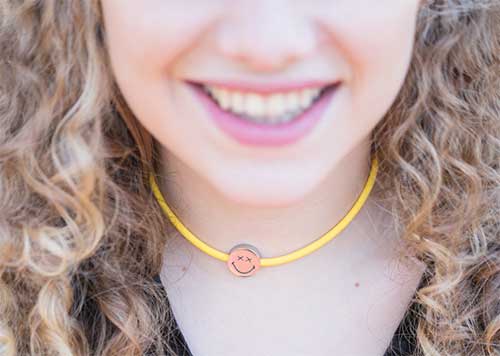 Photo credit: JulieRhême
Local fashion accessory specialist, Brappz, has just announced a new partnership with SmileyWorld, a leading brand for social expression and happiness. Together they are creating a special edition of playful athleisure jewelry to help spread the message that smiles are powerful and joy can be contagious!
Brappz will introduce three Happy Snappz (Smiley charms) every four months making them a fun collectible to trade with friends — and an easy way to share some positivity!
The special edition Happy Snappz coordinate with the Brappz collection of straps in bright yellow, black and white. Like all Brappz, the SmileyWorld collection is super versatile: you can wear Brappz as bracelets, chokers or hair ties; swap them out for shoelaces; make a charming bolo necklace or use them as a way to keep hold of your sunglasses that is both secure and fun. The creative possibilities are endless and every one of them can deliver a smile.
Photo credit: JulieRhême
The Happy Snappz will also be sold separately in small, medium and large sizes for anyone who wants to use them with other Brappz colors.
Brappz Co-Founder, Barbara Traulsen, told knowitall.ch, "Through our collaboration with SmileyWorld, we want to create a unique platform for people to express themselves through what they wear."
Business partner, Selene Folesson, added "We're especially excited that part of our licensing proceeds will go to the Smiley Fund which is a not-for-profit organization for social innovators to affect positive change in society today."
About Brappz
Brappz co-founders, Barbara and Selene, are two Geneva-based entrepreneurs with a passion for fashion. Their idea started in a fitting room battling with the bra-strap dilemma: to conceal or reveal? They decided to reveal but with style! By swapping the traditional unsightly bra strap for a sassy silicon strap and fun, detachable hook, they created a clever fashion accessory that doesn't look, feel or adjust like a conventional bra strap.
Since then, the versatile Brappz straps have also evolved into totally customizable and gender-neutral athleisure jewelry. These simple, adjustable straps and hooks offer endless possibilities: from bracelets, chokers, hair-ties and bag accessories to shoelaces and more. And to turn up the charm another notch, Barbara and Selene have now developed Snappz — playful snap-on embellishments — so you can personalize your Brappz or badge your favorite cause.
The freshness of this new concept is being embraced by the licensing world and has spawned some exciting collaborations between Brappz and licensing giants such as UEFA and SmileyWorld. Looking ahead, Brappz has its sights set on becoming a key licensing player in the accessories world. Just like the Brappz products themselves, the partnering possibilities are as limitless as the imagination, making it easy to SMILE and get hooked on Brappz!
The new Happy Snappz can be purchased online at http://www.brappz.com or at select boutiques in Geneva and Vaud. Click here to find a store near you: bit.ly/brappzinstores.
Brappz
Barbara: 079 687 6006
Selene: 078 908 6736
This email address is being protected from spambots. You need JavaScript enabled to view it.
This email address is being protected from spambots. You need JavaScript enabled to view it.
www.brappz.com