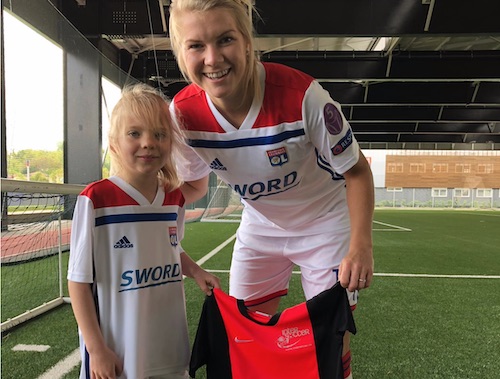 InterSoccer player Nora meets her hero Ada Hegerberg
Nyon-based UEFA has launched its new Women's Football Strategy – with the help of 8-year-old InterSoccer player Nora. In this article Rebecca Brown, a former team footballer who works for InterSoccer, looks at the rise of women's football in Switzerland and beyond. See the UEFA video at this link.
UEFA Women's Champions League Final Saturday 18 May
Olympic Lyonnais are ready for their final match in the UEFA Women's Champions League, to fight for the title. It will be the eighth final for Lyon in a decade, where they'll take on FC Barcelona as the first female Spanish team to play the decider. Both teams continue to be great motivation for all females, beginners and professionals, in the football world. Ada Hegerberg is one of the big names that will make an appearance for OL on Saturday in Budapest. The Ballon d'Or winner of 2018 is nearing 300 goals in her senior career at the young age of 23.
Nora, one of our InterSoccer girl players, was given the incredible opportunity to travel to Lyon and meet Hegerberg ahead of the final, to film a promotional video for the launch of the new UEFA Women's Football Strategy. We asked 8-year-old Nora why she loves playing football and she told us: "because it's a team sport that's so much fun!"
Nora had the chance to speak to Hegerberg and play a spot of football with her, which she loved. On the road home she said she wished she could do it all over again! This opportunity filled her with confidence and Hegerberg has been a true inspiration for Nora.
Although there are more and more girls participating in football, and the past few years has seen a rise in female participants, it is important to keep pushing and show the importance of females in football and sports in general.
Olympique Lyonnais have won the Women's Champions League five times in the past ten years
Women banned from playing football by the English Football Association
In 1921, the English FA banned women from playing on Football League grounds, claiming that "the game of football is quite unsuitable for females and ought not to be encouraged." The ban was only lifted in 1971, after decades of campaigning.
For many years and in many countries, football was seen by many as a "male-only" sport. Since then, women's soccer has grown in popularity and in participation. Although still not comparable to the scale of men's football, the sport is heading towards more of a level playing field as more and more women start to establish themselves, as referees and coaches as well as players. Take Shelley Kerr for example. Kerr made her debut for Scotland 30 years ago; she had to pay £50 to stay in a hotel and not everyone in the team got a tracksuit to wear. "My first pair of boots were hand-me-downs from a lad that stayed in the village," she remembers. She then went on to be the first female manager of a men's club in Britain. Today, as the manager of the Scottish women's national football team, she has just named the squad for the Women's World Cup. These are the types of changes that make a difference, through determination, perseverance and patience.
The FIFA Women's World Cup 2019
While the first Men's FIFA World Cup was held in 1930, the first official Women's World Cup did not take place until over 60 years later. An unofficial Women's World Cup was begun in Italy in 1970. But it was not until 1991 that the inaugural FIFA Women's World Cup was held in China. The 8th officially-recognised tournament, the FIFA Women's World Cup France 2019, will take place in France from 7 June to 7 July, with matches in Grenoble and the semi-finals and final to be played at Parc Olympique Lyonnais.
Despite admitting she would love to feel able to play for her country, Hegerberg left the Norwegian women's team in 2017 after falling out with the national football association over its treatment of women's football. She will not be playing in this year's World Cup.
How many female footballers are there in Europe and the world?
Today, the women's game is the biggest it has ever been, and it is still growing. UEFA reports that there are a total of 1.3million registered female players in European clubs, and that the number of professional and semi-professional female players more than doubled between 2013 and 2017, from 1,680 to 3,572. It has since risen again by 50%. FIFA report that there are around 30 million female players in the world.
After 20 years of seeing the female sport develop, Chelsea player Katie Chapman says that: "It's taken a long time to get to this point, but it's great to see where it's got to and how women's football has grown."
UEFA and FIFA Strategies for Women's Football
The first ever UEFA Women's Football Strategy was launched on the eve of the Women's Champions League final. The five-year strategy aims to double the number of girls and women playing football in Europe, to 2.5million registered players by 2024. Follow news about the strategy using the hashtag #TimeForAction.
When it published the first global Women's Football Strategy last October, FIFA set a target to double the number of female players in the world to 60million by 2026. Strategies like this will hopefully ensure that women's football continues to grow and eventually reaches a stage of complete equality.
Women's football in Switzerland
The first women's football club was founded in Zurich in 1968. There are now more than 24,000 players in 400 clubs. For the first time two Swiss teams – Zurich and Basel - took part in this year's Women's Champions League, though Switzerland just missed out on a place in the Women's World Cup.
How to encourage girls to succeed in football
Succeeding in football, and sport in general, is all about building confidence to believe in yourself, or encouraging your daughters to believe in themselves. Once the confidence is there, there is no stopping them! Shelley Kerr remembers: "because I was so little, I was substitute for two years. It didn't put me off. I looked up to the players. I had respect."
Playing a team sport is about growing as a person as much as it is about learning to play the game to be among the best. With all the knockbacks, non-believers and the critics, it builds us to be stronger people. Showing our critics what we can become makes us stronger as team players and individuals.
As Hegerberg said when she was the first woman to be awarded the Ballon d'Or last year: "I would like to end this speech with some words to young girls all over the world: please believe in yourselves."
Author's bio
Rebecca Brown is a Marketing & Business Masters Student at the University of Fribourg, and a former footballer who played for Haut-Lac International Bilingual School and St Légier. She lives in Vevey.