JoTo Tennis was inspired by Jonas Svensson, world ranking number 10 tennis player in 1989, and Tore Meinecke, world ranking number 46 tennis player in 1988. The story of JoTo Tenis is about two good tennis friends, who met on the ATP-circuit during the 1980s. They realized that once their tennis career was over, they still had a lot to offer and created a tennis club based on the values that were important to them:
Honesty
Quality
Respect
Passion
After a lot of hard work they founded the TC Chavannes-de-Bogis in 2004. In 2006, they started their successful summer camps in addition to club events and courses.
The new concept for the tennis camp
Jonas explains, "The new concept for our summer camps during the summer consists of 4 week-long competition camps (one more week than last year). Children may sign up for one or all of the weeks. Progress will happen no matter how many weeks they choose but those following the entire 4 weeks will benefit from intensive training and fun!"
An amazing prize goes to the best player for each competition week: 2 tickets to the Swiss Indoors Basel held in October this year! Since 2018, JoTo Tennis not only trains students for matches to complete their Swiss licence, but also includes additional education to be an umpire or a ballboy. There is something on offer for all tennis enthusiasts – a complete tennis-education!
The camps are for juniors from 4½ to 18 years-old – any level. During the 4 weeks of camp, lessons are given to about 200 kids.
What makes JoTo Tennis different than other clubs?
"The difference between JoTo and other clubs: our clear vision and long-term goals can be felt, through everything we do. For instance: We have had the same teachers for 8 years. Everybody knows that when they come to JoTo they will find teachers who love teaching, Honest and hardworking teachers and organizers. Quality teaching. We will treat the clients with respect on all levels."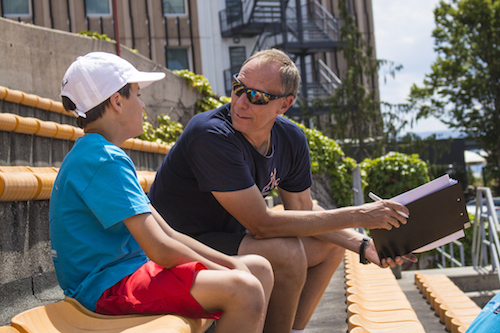 What advantages does the sport offer?
The brain and mind works better when you have physical exercise. Jonas stresses this point, "We can see it in our students who performs better at school. They organize themselves better and take care of what they eat. A passion like tennis in their life allows them to find the freedom to do something they have chosen, not like school! This gives us as teachers an opportunity to have open discussions with them about their life on many levels which they don't necessarily talk about with their parents or friends."
Jonas remembers, "My family played tennis back in Sweden so I followed them to the courts and picked up the racket and got started at the age of 6. I've never looked back!"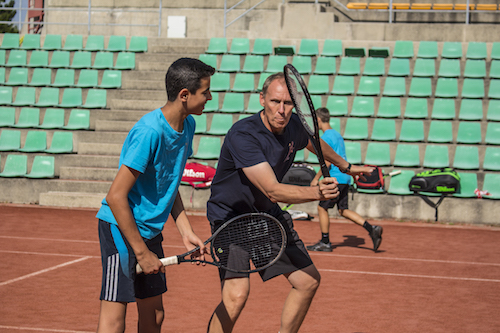 What some of the students had to say
"This is my 5th year of camp at JoTo and I keep coming back because I love the spirit here."
"I love this camp because of the competition and the great teaching I get here."
"Keeps me motivated for another year"
Summer camp dates 2019
1-5 July
8-12 July
12-16 August
19-23 August
For more information on JoTo Tennis for annual classes, courses, or camps and workshop, please consult the website.
JoTo Tennis
Les Champs Blancs
1279 Chavannes-de-Bogis
022 776 68 35
This email address is being protected from spambots. You need JavaScript enabled to view it.
https://www.joto-tennis.ch