Since it first started running soccer courses in Geneva in 2005, InterSoccer has become one of the most popular household names among expats living in Switzerland.
Literally thousands of boys and girls, aged from 3 to 13 years old, have benefited from their wide range of recreational and competitive football courses and camps, which run throughout the holidays as well as during the school term. All children, no matter what their skill level, are welcome at InterSoccer.
This summer, InterSoccer will be organizing Mini Camps for 3-5 year-olds, Junior camps for 5-9 year-olds, and Academy level camps for 10-13 year-olds. There are also special camps devoted entirely to goalkeepers (8-13 years), as well as ones targeted just at girls (5-13 years). There is even a special camp being led by the Youth Coach from Millwall FC, Andy Massey.
Additionally, in 2016 the Tottenham Hotspur International Player Development Camp (5-13 years) will run in Varembé, Geneva. The Premier League Club Tottenham Hotspur, who finished 3rd for the 2015/2016 season therefore qualifying for the Champions League, will be sending two UEFA B Coaches to an InterSoccer Summer Camp on Monday 11 July – Friday 15 July. The camps will be a great chance for children to improve their skills and techniques in a fun and friendly environment under the supervision of the highly qualified Tottenham Hotspur coaches. Boys and girls doing two days or more will receive a Tottenham Hotspur replica home shirt plus a medal. There will also be a Tottenham Hotspur 1 Day Camp on Saturday 16 July on Versoix. Click here for more information. Click here for more information.
To get everyone in the Euro 2016 mood, InterSoccer has also organized a series of mini-tournaments for all kids aged 3-13 years. These will take place on 5 June at the Stade de Varembé in Geneva, on the 12 June at La Châtaigneraie International School in Founex, and again on the 15 June in Signal de Bougy in Aubonne. Click here for more information.
Co-founder, Steve Long, told knowitall.ch, "Each year, coaches from around the world join the InterSoccer team to offer a mix of skills, experience, knowledge and languages. While English is the main language of instruction, many of our coaches also speak French and German so local children can also take full advantage of our courses."
Co-founder and Director of Coaching, Gordon Nunn, added, "InterSoccer is expanding so quickly that each year we have to add more venues to cater for the growing demand for places. This summer we are running camps at 5 different locations in Geneva, 8 more locations in Vaud, and 1 in France! Many of the camps are held at local sports centers or the playing fields of international schools."
Most locations cater for all age groups with youngsters playing in the morning and older players on full-day sessions. It is possible to book any number of days within the week, although beneficial rates apply for week-long bookings. Visit the InterSoccer website for more information.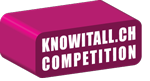 To encourage more children to try out their camps, InterSoccer has kindly offered knowitall.ch readers the chance to win a free place for their child on any day camp of their choice this summer, excluding the Tottenham Hotspur / InterSoccer Camps, which are running in Varembé between 11 and 15 July, and in Versoix on Saturday 16 July. With some day camps costing up to Fr. 120.- / day, this is a great prize for any budding soccer enthusiast. To give yourself a chance of winning this place, simply fill in our competition form and tell us which year InterSoccer started offering soccer courses in Switzerland!
Only one entry per person per email is allowed. The competition closes on Sunday, 19 June at midnight. The names of all those with the correct answer will be placed in the digital hat and the winner's name will be drawn at random the following day. The winner will be notified by email and his or her name published at the bottom of this article.
InterSoccer
www.intersoccer.ch