In recent months, our habits have been shaken up. It's time to indulge and Signal de Bougy that recently reopened on Saturday 6 June 2020 to the delight of families who have been holed up at home. Located between Lausanne and Geneva, Signal de Bougy is the ideal place for a family outing. The panorama is exceptional and several activities such as playgrounds, an animal park, and sand games are available free of charge.
Part of the park was under construction during the winter to offer three new attractions in a space called Kid'zland.
A small train for the whole family
A circuit with skidding cars (see photo below) for older children: they give the impression of skidding but in fact the vehicle turns on itself
A sand play area - sand toys are available for purchase at the little shop near the restaurant if you didn't bring any
Tokens can be bought there and will keep the kids happy and safe while parents can enjoy a beverage on the adjacent terrace
Parents can accompany children on some rides. Children from age 4 can go alone on the train or in a small cars. Under 4 years old the accompanying person does not pay. As soon as the child is 4 years old and if the parent wants to accompany him or her, he or she pays for the seat. The minimum age to drive the car, motorcycle, or boat alone is 4 years old, and from age 8 to drive a drift car alone.
New hygiene measures
Cars, boats, mini golf sticks, and the train are disinfected between each use.
Eating at the restaurant
The self-service restaurant caters for the whole family with a new takeaway formula for picnics in the park. The adult and children's menus are always available to recharge your batteries and make the most of the activities. Make sure to bring a picnic blanket and sun screen, towels, and whatever else you think makes for the perfect picnic.
Other activities
If you are a patient person with the skill of putting a little white ball in an approved 18-hole course for adults, then make sure to check out the amazing golf course.
Alone, as a couple, with friends, with children or grandchildren, you will appreciate the mini golf course with its in a floral setting.
The animal park with Tibetan goats, donkeys, pigs, rabbits, ducks, chickens, and turkeys allow children to see the animals up close and personal.
The secure playground boasts slides, swings, mazes, and other climbing frames.
At the Lausanne end of the park, there is an adventure area with tree-climbing in the woods, Parc Aventure.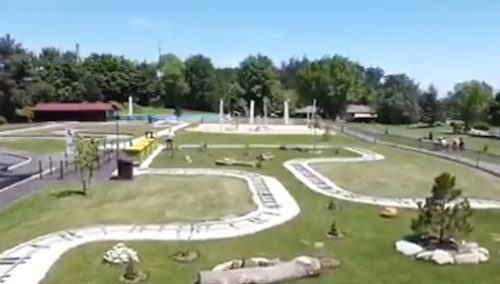 Check out the article we published back in 2015 about Signal de Bougy here.
Parc Pré Vert du Signal de Bougy
www.signaldebougy.ch/fr/activite/kidzland
Open Wednesday through Sunday 10h-18h, during summer holidays open 7/7.

Park, playgrounds, and animal park: FREE entry
Kid'zland:
1 token CHF 3.-
6 tokens CHF 15.-
13 tokens CHF 30.-
Minigolf:
Adult CHF 7.50
Up to 12 years CHF 5.50