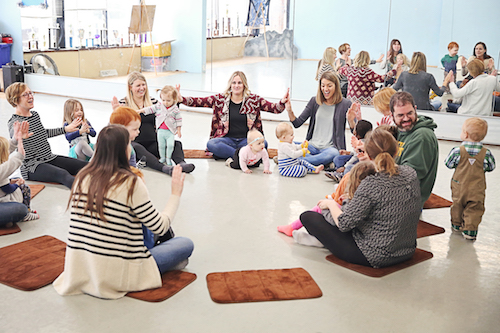 Teach Music Week is celebrated annually during the 3rd week of March to coincide with national "Music in Our Schools Month" (MiOSM). Anyone interested in learning to play an instrument is encouraged to seek out a participating location or musician friend to help get them started. Teach Music Week also invites public, private and charter schools to schedule activities that will encourage more students to sign up for music, band and chorus classes.
Music Together in Geneva Center (MTGC) teamed up with Teach Music Week and will open 4 of its classes to new students during the 3rd week of March* so that they can experience the benefits of music and learn more about their musical curriculum.
This is an amazing opportunity for families who have been considering music for their children.
Vincent James, co-founder of Keep Music Alive in the US comments, "We all know that the biggest hurdle to doing something is often just getting started. With Teach Music Week, we are hoping to inspire a multitude of new musicians who will continue reaping the educational, therapeutic and social benefits of playing music."
Joana Ribeiro wrote to knowitall.ch, "At MTGC our goal is to open the doors to our classes and encourage new students to continue long after the month of March. This is the perfect timing for us because our spring term starts on March 25th, just after Teach Music Week. Families can come with their children, experience the benefits of mixed age groups learning music and they can enrol to one of our spring classes - Tambourine Song Collection - a series of songs and activities for music-making."
*The free trials will take place during the first week of the Spring term, but families should register during the Teach Music Week (18-24 March).
To register for a free trial they should contact Joana directly at This email address is being protected from spambots. You need JavaScript enabled to view it.and please mention Teach Music Week and Know-it-all passport.
Music Together in Geneva Center
Visit the Class Locator to find and choose a class: https://www.mtingenevacenter.com/classes.htm
https://www.mtingenevacenter.com
https://www.facebook.com/musictogether.ge