Photo credit: © 2023 Orchestre symphonique genevois
There are always amazing shows and concerts throughout the Suisse Romande area. When you unite a great orchestra with an acoustic and historical concert hall, you won't be disappointed. We caught up with Joannah C. Wengler to tell us more about the Orchestre Symphonique Genevois (OSG) and their upcoming concert on 1 April 2023.
Joannah writes, "Founded in 1977, the Orchestre Symphonique Genevois (OSG) is an ensemble that crosses boundaries: between nationalities, mixing people from the local area with internationals from around the globe; between generations, with musicians from 18 to 80 years of age; and between professions — doctors, physicists, UN staff, historians, librarians, students... and even musicians make up this extraordinary orchestra. They come together under the leadership of professional conductor Hervé Klopfenstein because they share one thing: their love of music."
Over more than 40 years, the OSG has given more than 380 concerts in Geneva, French-speaking Switzerland and neighbouring France. Counting 60-80 musicians — depending on the repertoire — it is an integral part of Geneva's cultural life. It also plays a formative role for some young musicians. In recognition of these two roles, the City of Geneva subsidises the OSG.
Joannah continues, "I first joined the OSG shortly after arriving in Geneva in 2003, introduced by a mutual friend from CERN. After a successful audition I played both in the second and first violins, taking part in many concerts in Victoria Hall in Geneva, but also further afield in the region, in places like Lausanne Cathedral, Nyon Temple, and Belley (France). Highlights have included recording Mahler's first symphony in Victoria Hall, performing Dvorak's Stabat Mater with the Motet de Genève, and playing with renowned soloists like Lionel Cottet (cello) and Michel Tirabosco (pan pipes)."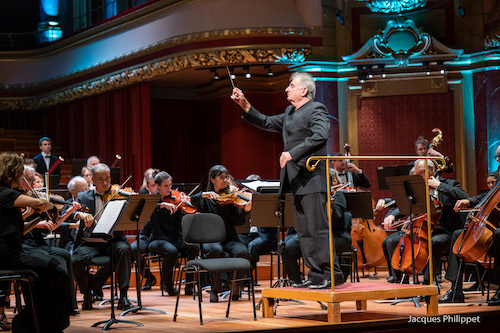 Photo credit: Jacques Philippet
Upcoming concert on 1 April 2023
The next opportunity to hear the OSG is at a concert on Saturday, 1 April 2023, 8pm, in Victoria Hall Geneva.
Liszt's first piano concerto with François-Xavier Poizat, a professional pianist of Swiss, French and Chinese origins who studied in Geneva and New York, and who founded the Puplinge Classique music festival.
Les Préludes: by the same composer, and two lively Russian works:
Night on the Bald Mountain: a symphonic poem by Mussorgsky which vividly describes a wild witches' Sabbath dance.
Borodin's "Polovtsian Dances": an orchestral excerpt from his opera "Prince Igor", where the Polovtsian leader Khan Konchak lavishly entertains the Prince and his son, whom has he taken prisoner, and calls on his slaves to perform lyrical and dramatic dances.
Photo credit: Jacques Philippet
Date: 1 April 2023
Time: 20h
Place: Victoria Hall, Rue du Général-Dufour 14, 1204 Genève
Program:
Modeste Moussorgski: Une nuit sur le mont chauve
Franz Liszt: Concerto pour piano et orchestre no 1
Franz Liszt: Les préludes
Alexandre Borodine: Danses polovtsiennes
Look out for OSG's other 2 concerts this year.
24th or 25th of June, Fête de la musique Geneva
26 November 2023, Victoria Hall Genève
Join the OSG
The orchestra is always on the lookout for new string players. So if you play to a decent level and are interested in making music regularly and meeting other musicians, get in touch by email.
This email address is being protected from spambots. You need JavaScript enabled to view it.
photos: © 2023 Orchestre symphonique genevois