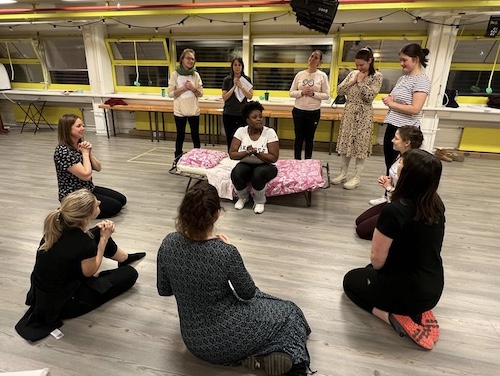 Deloris, played by Joanita Kalibala, singing "Bless Our Show," in her bedroom with her sisters to help calm their nerves before their big performance (rehearsal).
Sister Act is a story about people from different communities, working and finding a connection and compromise. There are many stories in the world of divided communities, but here we have a story about two very different ends of the spectrum coming together and finding a way forward for the good of them all. This is why Sister Act is so fulfilling and continues to be popular with audiences across the world. Note: It has just recently appeared again in London's West End!
The three directors/choreographers of Sister Act: Karin Ball, Bindu Kapur and Gen Steele, explain they have long thought this would be an ideal show for GAOS. They last co-produced Puss in Boots in 2016 and only now have come back together in the Geneva area.
It's got glitz and glamor, humor and hope, and more nuns than you can shake a rosary at! So, like all good musicals this story has a happy ending with lots of talented singing and dancing. "The show features one of the most uplifting scores in musical theater," says Musical Director Chelsea Middleton, who directs a live band.
It is based on the real-life story of Dolores Hart, an actress who came to fame starring alongside Elvis Presley. One little-known fact is that Bette Midler was first asked to play Deloris in the 1992 film, but backed out after not wanting her fans to see her in a wimple, so Whoopi Goldberg "swooped" in and took on the role for which she remains famous.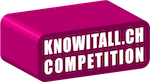 Enter our competition to win a double ticket!
Continuing its long-standing relationship with Know-it-all passport, GAOS have kindly offered one of our readers the chance to win a double ticket for SISTER ACT in Nyon (value Fr. 78.-/pair of tickets) held on 30-31 March and 1-2 April 2023.
To enter the competition, just fill in this form and answer this multiple choice question: What kind of show is Sister Act?
Only one entry per person and per email is allowed. The competition closes at midnight on Thursday, 16 March 2023. The names of all those submitting correct answers will be placed into the digital hat and the winner's name drawn at random by Friday, 17 March 2022. No cash equivalent of prizes is permitted. The winner will be notified by email.
Sister Act
30-31 March 2023
1-2 April 2023
https://www.gaos.ch/event-5066683
Théâtre de Marens
1260 Nyon